---
Media Reports
Tragedy in the Upper Hunter area, when a woman was killed by flash flooding. A large slow moving storm on the Liverpool Ranges dumped about 70mm in 2 hours on an already saturated catchment, resulting in a severe flash flood event through Murrurundi. The house the women was in, was swept off its foundations into the Pages River. The New England Highway was closed as floodwaters surged downstream. 90mm or rain was recorded at Murrurundi from 3am to 10am before a metre of water swept through town. The return period of intense rainfall of this magnitude in this area is about 20 to 30 years.
The storm was associated with a slow moving trough and front which was producing severe weather in Victoria the morning before, and still producing extreme events well into the evening of the 25th.
The Lismore area was affected by severe wind squalls throughout the evening of the 25th. Worst hit was Goonellabah and Richmond Hill where 7 houses lost roofs - one ending up in a neighbours swimming pool. Extensive blackouts were caused by lightning strikes and poles and wires brought down. Some areas were still without power 24 hours after the storm.
Storm Spotter Reports

21:35 24/01/96 CONDOBOLIN CWP 58kt gust
01:00 25/01/96 COWRA SWS 55kt gust. Trees down, roofs off homes and the local pub.
09:00 25/01/96 MURRURUNDI HUN 59mm in 180 mins, 25 people evacuated from the town. Flash flooding occurred in surrounding areas. One person died.
10:00 25/01/96 LOOMBERAH NWS 24mm in 15 mins
10:51 25/01/96 DUNGOWAN NWS 36mm in 43 mins
11:15 25/01/96 NUNDLE NT 45mm in 60 mins
11:30 25/01/96 WALCHA NT 50mm in 60 mins
18:00 25/01/96 KYOGLE NR 30mm in 40 mins
21:50 25/01/96 OCEAN SHORES NR 47mm in 50 mins
Synoptic Charts
Synoptic Charts provided by the Bureau of Meteorology
MSL Analysis 10 pm Eastern Standard Time 24th January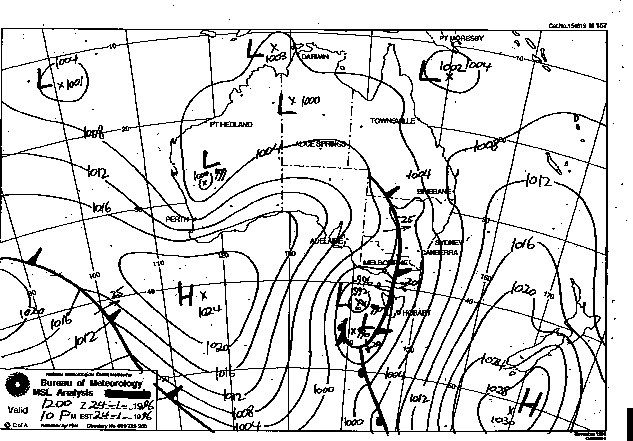 MSL Analysis 7 am Eastern Standard Time 25th January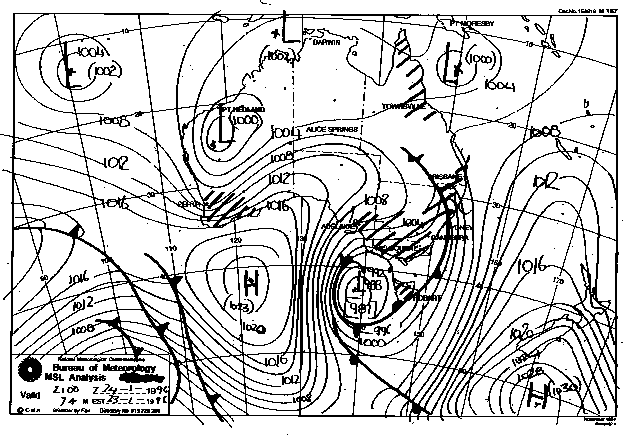 MSL Analysis 1 pm Eastern Standard Time 25th January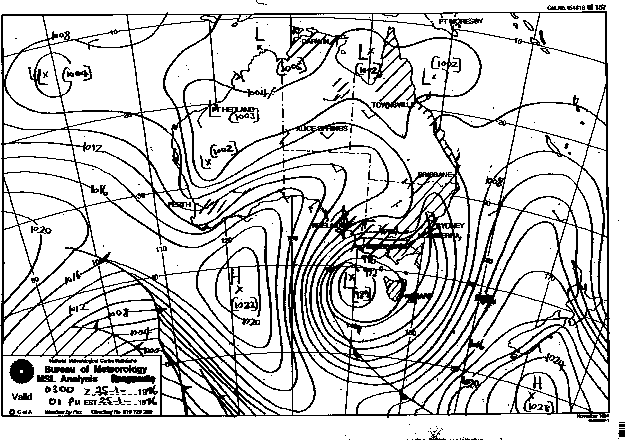 ---