---
A persistent area of thunderstorm activity just offshore the NSW far north coast, produced some spectacular features indicative of a supercell. The storms developed on the leading edge of a cold front advancing northward along the coast during the afternoon of Thursday 18th February 1999.
These first three photographs by Halden Boyd show the storm at South Evans Head overlooking Snapper Rock towards the southest.
---
Scott Hills took a series of images while travelling between Goonellabah and Ballina
---
This series of photographs were taken by John Bath at Ballina (approximately 30km north of Evans Head) over a period of 1 hour from 6pm (NSW time).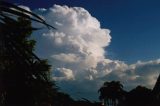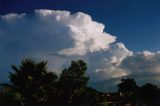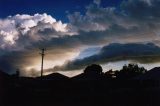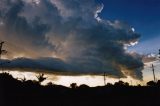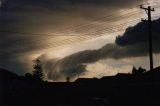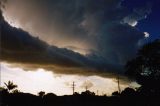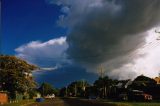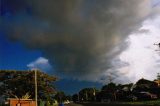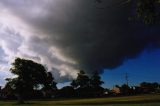 01 & 02: looking south towards the approaching cell
03: 6.30pm looking east
04: 6.30pm looking west
05, 06, 07 & 08: spiral inflow band developed
09 & 10 east
11: northwest
---
This series of photographs were taken by John Graham also at Ballina.
---
Storm Chase account and pics by Rals
(Times are QLD time - 1 hour behind NSW)
NEVER FEAR!!! I WAS THERE! I WAS THERE!!!!!!
Today my girlfriend from Melbourne became a hapless stormchaser for the first time in her entire life !!!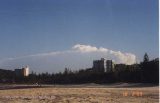 We were on the beach at Burleigh Heads .... about 5.15pm I dragged myself up off the sand and glanced south and 'wtf!!!!' ... WHERE did THAT come from!!!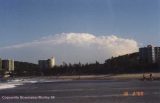 From there it was:- madly grab HER camera - shot off a couple of frames ... then bundled my stuff, her stuff... oh, and her (michelle i.e.), in the direction of the car ....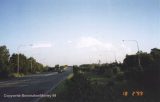 We were fuelled and flying down #1 by 5.38pm ... it had anvilled at approx 10,000 earlier ... but the tops were still shooting upwards and a second level anvil was forming about 20,000 ..... when we left Tweed Heads it had moved from SW to our SE...
Over the next 67kms it put on a real show for us ... from rocky white, to grey passing into pink and dissolving into a glorious gold ... as we got further south it was evident we had been observing the backend of the cell ...... the forward flank faced south, was nicely anvilled, with pronounced 'knuckles' at the SW portion..I'd say at about 30,000.. there were sister cells trying to 'pop' to the NW and SW flanks...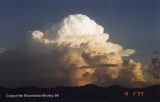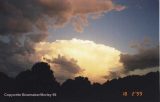 By 6.30 we experienced some light spats of rain, and passed under the inflow band proceding from the west and feeding into the NW flank of the beast. By 6.48pm it became evident it was basically stationary, off the coast, somewhere south west of Ballina ... it was nearly dark, and began displaying fine bursts of IC lightning .....
And, with dark almost on us .. and no other data to judge on ... the anvil had noteably softened but still displayed mammatus in the south portion ... VERY reluctantly I made a Uturn and headed back north... we weren't going to get to where I'd have liked to be .... and Michelle by now, was coherent and starting to wonder WHAT on earth she was doin in the car hurtling along in NSW territory.... and where did the beach go?
At about 7.45 we pulled over about 20k's south of Tweed Heads ... and took in the fantastical lightning show to our east .... and yes, it was MAGNIFICENT.
At times it was like little atom bombs exploding from within ... tons of IC accentuated with bolts of CC running from thunder head to thunderhead .... we didnt observe any ground strikes at all .. it was all CC strikes...
It was still going berserk when we reached Brissie. The strength within was belied by the multi level heavy scud shrouding the northern edges of the cell itself ... it didn't look nearly as ferocious viewed from the north, as it did from the west and southwest.
We actually had a camera with some film ... and between us we've caught several fine shots (I think!)
Chase start 5.15 pm - travlled 140kms from Burleigh to 15k nth of Ballina and back to point A. Chase end 8.35.
ohmigod!! I got shopping, sun, sand, surf AND stormchasing ALL IN THE ONE DAY!!! (NOW... there's only ONE thing that could possible be better than that! (maybe)) Hey, this could be some kind of record?!!!!
rals dreading werk tomorrow...
---