---
Spring 1999 has produced the best start to the storm season for many years. New South Wales region had already experienced some storms earlier in the week. Trough lines were developing and advancing whilst another would develop further west and also advance. The lifted index values were predicted to be generally -4 to -6 in the target area for the days we were to chase.

I indicated to other chasers that I would be chasing as I was on holidays. What luck can you ask for - for once!!! The only takers were Matthew Piper and with dreary eyes - James Harris (he had only 3 hours sleep). I must say he had courage to come along on short notice. But there is no rest for the wicked!!
25th September 1999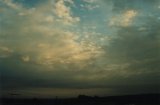 I picked up Matthew from Schofields station and we were to meet James in Muswellbrook. I had already taken a few photos of the altocumulus castellanus around Sydney and this was observed all the way into the Hunter: the difference being that the lower stratocumulus clouds disappeared almost suddenly whilst on the Putty Road. About just after 11am, we met up with James and had a quick lunch break. Skies were darkening to the SW and W of Muswellbrook. Upon checking for static on the radio, it became evident that the storm was intensifying mainly on the northern section. The best consolation was some video footage particularly of the lightning strikes. One of the frames perhaps could be used for a future Toyota Camry commercial. Lightning in line with my car!!!! The storm moved over the highland country with cells developing on the northern flanking line. Throughout the afternoon, more cells developed along that line.

Closer to Murrurundi, James and Matthew indicated that they saw a storm to the far S. I then received a call from Rune Peitersen verifying that the storm was just north of Lithgow. Radar indicated a large area of hail which I wasn't surprised considering just how large this cell was. We had seen this storm earlier but it was more or less obscured by other cloud and therefore not all its structure was observed.

It was decision time!!! Do we head back an hour and a half towards this cell or wait to see what else happens near Quirindi. At about 3pm, we made the decision to head towards the cell near Lithgow.


But just out of Quirindi, I (and Matt and James) observed a large cumulus that had developed rapidly within minutes from the same band of cumulus. It was decided that this cell was worth monitoring.

We made our way towards Breeza Plains making sure trees were not obscuring our view. The storm developed, glaciated and precipitated as we watched. The cell grew larger although it looked weak. Precipitation continued to develop and the storm gradually spread its anvil overhead and towards the north-east. The slow spread of the anvil indicated the light upper level winds.

During the late afternoon period, other cumulus developed into thunderstorms. But it was the cell near Lithgow that had us salivating. We watched as it developed an extensive, back-sheared anvil; proof that it was still reasonably active!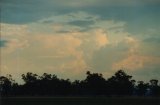 After getting bored watching the same view of the storms to our west, we decided to get ourselves ready for some possible lightning activity viewed from the hill near Quirindi. On the way, we just had to stop and photograph the storm band to the east reflecting the sunset.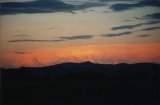 As the evening drew near, lightning became more prominent with some good bolts captured on video. But as the storms moved east, the trees obscured some spectacular lightning bolts. I then decided that moving to an area to the east of town would give us a better view. And it did!!! Some excellent bolts greeted us. We prepared for an excellent lightning show. Soon after arriving there, light rain!!! We could not believe it!! We threw our gear into the cars and waited..... It wouldn't stop. So we decided to book accommodation and then come back. But that was it, if it wasn't the rain, it was the fresh to strong downdraughts and updraughts that made things difficult. One of the interesting features of the last storm we observed was how the strong updraught suddenly changed to a downdraught within seconds!!
26th September 1999
The morning had the tell tails of instability if you looked for it. There was altocumulus castellanus to the north and thick white sheet of cirrostratus or altostratus; not your typical classic unstable look. Broken altocumulus was widespread. The sky to the far south was clear.
It was decided that since the town was basically "dead" with no people activity and the library was closed, we would make our way to Tamworth. You guessed it, the library was closed there as well. In search for an internet cafe, we visited the Information Centre. It was interesting that the internet cafes were closed on Sundays but we could access the internet at the Backpackers hostel!!
After a brief run down of the situation and noting the Lifted Index values, the satellite pictures, and the synoptic situation, we drove to the lookout for a proper look. I must admit I was confused by the change in direction. Cells were towering to the east and northeast over the Northern Tablelands. There was a moisture haze over Tamworth and the surrounding areas. Some cumulonimbus could be seen to the north and northwest. It was now about 11:30am.
Just out on the bypass of town to go and get a better look, James contacted us to alert us of the towers over the Northern Tablelands. Since we would have had to wait some time for action around Tamworth, it was worth investigating. I contacted Michael Bath to make sure that there were storms within reach. There were no warnings out but the storms were showing on radar. These storms were solid with good anvils indicating motion in the upper levels. First stop was Moonbi Hill.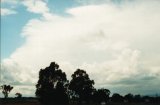 After a few pictures here and an update from Michael Bath, we decided to aim for Armidale. There were two main storms near Armidale: one to the east and another cell to the west or northwest. Trees made our trip unpleasant as we only caught glimpses of the storm structure. Suddenly, a lowered base appeared and I had to restrain my foot from the accelerator so that the speed limit was not exceeded. Finally we rose onto the plateau and much clearer country. The lowering was still there but not doing much; certainly not rotating.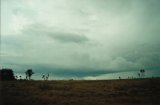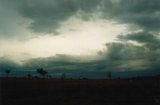 The storms stretched across the horizon with major cells observed in the direction of Armidale. It had that greenish tinge look and there was good separation in the upper level for hail to be probable. After a some video footage and photographs and a call from some of the ASWA folks, we decided to head south as it would be closer to get home from Tamworth. A few kilometres down the road and mobile went off!!! Michael Bath alerts us to the news that an advice was out for the Tablelands and Northwest Slopes and Plains for severe storms with heavy rain, strong winds and large hailstones. Well we knew this at least an hour before. We had to head back to Tamworth so that both James and Matt could be on time for work the next day.
On the way, a nice towering cumulonimbus developed with a rain free base for a while. On arrival to Tamworth - nothing!!! All the action was on the Tablelands. After a browse of the internet, my stomach finally won its way - Maccas!! On the way we could see a decent looking large cumulus partially glaciating which was going to be our next target.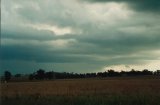 After the late lunch, we decided to head home straight through it. Suddenly, within minutes travelling down the road south of Tamworth, a rain curtain appeared!! Wow. A high contrast base met a thick curtain of precipitation which certainly had some embedded hailstones - enough to get me excited. There was evidence of downburst conditions and occasional lightning bolts.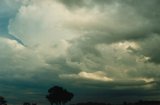 The anvil was thick and strong on the front indicating the cell had formed within the past half an hour or so. After a brief photo and video stop outside of a driveway, we headed for a safer position on a road off the New England Highway.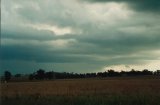 Whilst shooting video and photographs, we kept watch of where the main activity was. Lightning bolts seemed to be occurring in different places not as predictable as what I am used to. Then suddenly a flash and bang - from the right hand side. Yep. It was towering overhead so we took some precautions to stay out of the open.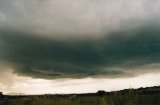 As the storm was gradually sneaking its way to try and trap us and with lightning danger increasing, we decided to move north again. We moved on two occasions and luckily so. It seemed a multi-forked severe bolt with thunder that sent my ears ringing hit in an area where we had just been a few minutes earlier. Just a prompt reminder and warning not to stay to close to storms especially in the open areas.
The storm system lasted to about evening changing into some interesting lowered formations as the undercutting series of downbursts edged northwards. There were other cells developing to the east as well with some good falls. I wanted a taste of some little hailstones!! But, it wasn't to be.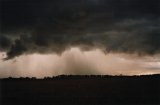 During the evening, we called it quit. Just as well because James Harris found the action, well - rather boring. We almost had to break into his car to awaken him!! Believe me, storm chasing takes a lot of energy out of you, and a combination of lack of sleep had taken its toll.
27th September 1999
We had decided that due to expected heavy rain (and some mysterious illness that had set upon the chasers) to stay overnight and travel the inland route to Sydney. Well it was so damn convenient as it just so happened that there were storms possible in Central West. There was light rain over night.
We passed a creek just outside Tamworth which was fast flowing as a result of the storms we has observed the day before. We continued on to Gunnedah and yet it was another sleepy town with the local library opening later. So we made our way into rainy Coonabarabran. We checked out the internet for an hour. The verdict, the action seemed to be more north almost towards the border areas with Queensland even though storms would develop near the Central West. The rain remained a feature until we neared Gilgandra. There was a clearing and James signalled that he had just observed storms. These storms were probably 150 kilometres to the west.
After an update from Michael Bath, we decided to just get out of the rain band edge travelling along the road to Warren for about 12 kilometres. From here, it became even more apparent that the chase was basically over. The storms were weak with fibrous anvils and could not sustain persistent strong updraughts. At around 3:15pm, we parted company. We arrived into Sydney around just after 8pm driving into miserable conditions in the Blue Mountains.
Comments about the chase
I can say that when we looked back, it was successful and also exciting. We got anything from major storms to night time lightning to heavy rain and probable hail. There were very few times that we felt slight boredom with storms somewhere on the horizon and in most cases some storms within easy reach.
Successes on the chase included:
The target areas were spot on with 06Z Lifted Index values suggesting the storms would fire at that time and they did!!!
Moisture was not much of a problem but should always be considered when in the country so that the trough lines can be picked out. Along the coast, there is always sufficient moisture.
I predicted that there was sufficient upper level winds over the lower Hunter which is why the Lithgow storm went wild. We didn't see the whole storm which is why we didn't chase it. This area was a target despite the lifted index being slightly lower.
Thoughts on how we could improve future chases:
When you are on a target, stick to it. Indecisions can lead to getting nowhere. I suppose we were lucky on this occasion but it could have left us wondering what might have been.
We now find that the internet is becoming more accessible in places such as the Backpackers Hostels, shopping centres, and of course Internet Cafes and Libraries. I am though a little disappointed with the opening and closing times of libraries... You simply cannot rely on them.
Keep in mind the sort of distances you are going to cover and if those with you are willing to travel such distances.
When using the lifted index, keep in mind the amount of moisture, the wind speed and direction at the various levels in the atmosphere, and the type of terrain that will kick off the action as this plays a vital role in positioning yourself. Also be aware of the type of synoptic scale system that is producing the favourable conditions. For instance, if a trough line stagnates or moves faster than anticipated, will you be able to be in position to catch up.
One of the important things to keep in mind is chaser safety.
Storm chasing is a dangerous occupation. The following are some of the chaser safety tips I keep in mind.
Lightning is the most serious component in chasing and respected by responsible chasers. Even though, lightning is typically predictable occurring in updraughts and fresh downdraught areas, this is not always the case. Keep in mind that all storms vary in structure and low cloud can hide the extent of new development and anvils protruding overhead. If a lightning bolt strikes nearby, take cover immediately and don't try and be a hero!! Please refer to the proper procedures of lightning safety for better advice.
Keep reminding each other not to just go and open car doors near traffic. Opening the door away from the traffic should be encouraged. So having equipment on the left hand side of the car is ideal.
You should also know your roads and have a sense of the directions you are generally travelling within the limitations of the maps. Bear in mind that you are in unfamiliar country and roads can be flash flooded from storms dumping in other areas.
When driving, the driver should keep eyes on the road but the passenger should also keep eyes on the road as well as the storms. The most ideal situation is to have a driver who is not really interested in storms but loves driving and exploring areas. (As you know, we all like to have a peep). If need be, have a brief observation stop in a rest area or where there is a lot of space to stop.
Based on the type and design of roads, aqua-planing during heavy rain is quite serious. Keep watch for areas of water on the road particularly where the road has been worn away by tyre traffic.
Make sure your vehicle is sound and reliable. Even though your vehicle should be serviced regularly, I am of the opinion that you should trial your vehicle a week or two before going on longer chase trips.
Do not core punch storms or pass through storms as you may well know that this will put yourself and passengers in danger. The best location is to be on the western or northwestern side of the storm. Ideally, at right angles to its direction of propagation or movement.
Be absolutely sure that those in your vehicle really want to chase and are aware of the rules in chasing storms.
Those who lack experience and knowledge should chase with other more experienced chasers. When you move out of your local region, storms will not behave always as you expect them to.

I would personally like to thank all of those who have contacted us or been there to be contacted for keeping us up to date with invaluable information. I know that this played an important role in the success of this mission and for future missions.
Satellite Images
These images from Bureau of Meteorology
GMS-5 Visible 4pm 25/09/99, 4pm 26/09/99 and 4pm 27/09/99
GMS-5 Infrared animation 99092500z - 99092513z (10am to 11pm 25/09/99 local) - 04z (2pm) missing [455Kb]
GMS-5 Infrared animation 99092516z - 99092613z (6am to 11pm 26/09/99 local) - 04z (2pm) missing [662Kb]
GMS-5 Infrared animation 99092616z - 99092713z (10am to 11pm 27/09/99 local) [595Kb]

These images from CSIRO Marine Research
NOAA AVHRR 5.5km resolution 4.05pm 25/09/99 and 3.42pm 27/09/99
MSL Analysis Charts
These images obtained from Bureau of Meteorology.
1pm local 25th, 26th and 27th September 1999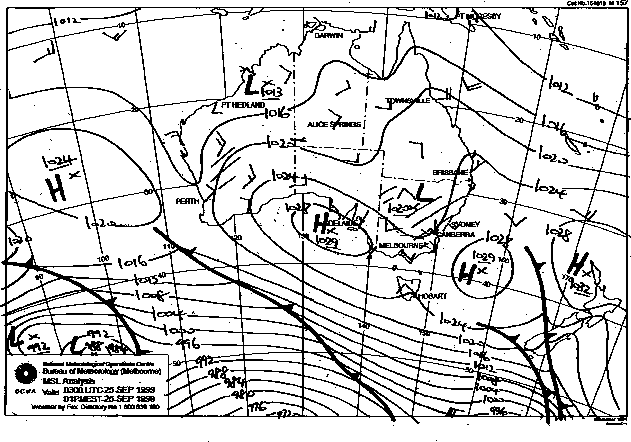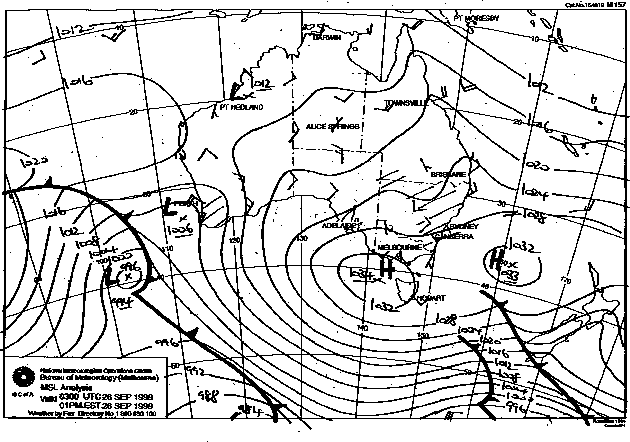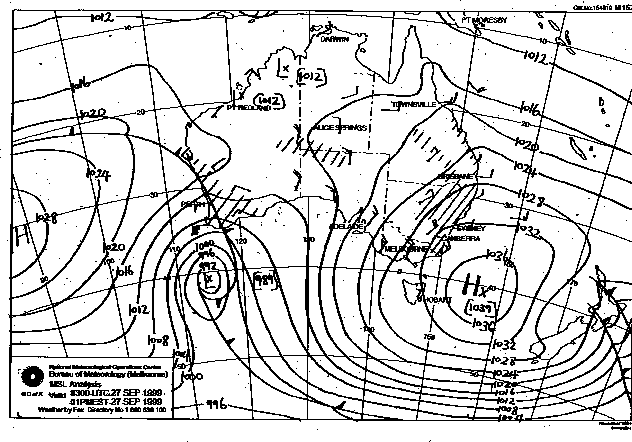 ---