---
To say I was bitterley dissapointed at having missed an opportunity to video / photograph the severe storms on the 22/9 was an understatement. On days which look favourable to the development of severe thunderstorms when I am stuck at work, i bring my gear in and when storms are approaching, head up to the local shopping centre car park in Gordon on Sydney's north shore. Being elevated, the car park is ideal for getting storm pics since it provides a panoramic view from NW-SW. Having left my equipment at home on the 22/9, the magnificent images of the approaching severe thunderstorm as I watched from this location are now all but a memory. The particular storm which approached Gordon just as the sun was setting (around 6:00pm) was a beast and had that structural quality beyond a cumuliform anvil, overshooting top or spectacular gustfront; a breathtaking quality which reflects the highly organised nature of more powerful thunderstorms as they take charge of their surrounds. At a Sydney weather watch meeting the senior meteorologist at the NSW BoM severe weather section mentioned that they were "quite worried" at one stage with the 6:00pm storm beginning to show supercell characteristics. In the end there was no sustained rotation of the updraft. Reports of severe weather where mostly for hail with 2 cm hail widespread with the storm system. Larger hail 4 cm hail reported by a storm spotter at Avalon (a little further north of my location on the northern beaches) and a 3.5 cm stone being measured by storm spotter and chase partner Paul Graham at Ryde. We copped hail to 2cm at Beacon Hill with a storm at about 8:30pm.

Getting back to the 1/10 event, luckily, conditions since the 22/9 remained quite unstable with storms developing in a convergence zone over the ranges to the west of Sydney on many days. In northern coastal Sydney, unfortunately, we did not see any of this activity. Friday (1/10 being the 'official' start of the severe storm season in eastern Australia) looked a little more promising. After having the morning off work i headed in from Beacon Hill at around 3:00pm. There was quite a lot of mid level gunge around and several weak cells west of my location which I thought might inhibit stronger convection. To my surprise by the time I was at Belrose (3:10pm) I was picking up static crackles on the AM at the rate of 1 every five or so seconds. At St Ives the static crackles were now every second.....the lightning was going off!. Around this time the first severe thunderstorm advice, which included parts of the Sydney metropolitan area, was broadcast on radio. I saw a bright flash from the corner of my eye and a loud interference on the radio. The sky to the NW was quite dark and ominous and my head went into a simple harmonic motion, alternating between looking straight ahead at the road and right at the strong looking thunderstorm. Through the trees I could just make out some fierce CGs from an updraft base which had not yet begun to precipitate, although a dark rain curtain was visible further to the northwest. At a set of traffic lights I decided that a chase would be a waist of time with peak hour approaching and given that the storm was moving SE, or in my general direction. Then and there I also gave up on the idea of going to work and headed straight to my little lookout at Gordon.

I parked the car and three things got me really excited about the prospects. The first was the very frequent and intense CG lightning. The second was the fact that I was in an area of quite strong inflow and above me there was a constant migration of scud towards a huge updraft on the storms Nth flank - this storm was not going to weaken in a hurry and based on my observations I suspected that it might intensify further. Finally it was definitely heading in my direction so I could just pull up a chair and watch it roll in. The severe thunderstorm advice was updated at to include all of Sydney. One other thing over the radio didn't hurt either:

TOP PRIORITY FOR IMMEDIATE BROADCAST

SEVERE THUNDERSTORM ADVICE
BUREAU OF METEOROLOGY
NEW SOUTH WALES REGIONAL OFFICE
Issued at 1633 on Friday the 1st of October 1999

This updated advice replaces the one issued at 1511 and affects people in the
following weather districts: Sydney Metropolitan, Central Tablelands, east of a
line Lithgow to Picton and the Illawarra.

Thunderstorms are forecast within the advice area from now until 8pm. Some of
these are expected to be severe, and could bring large hailstones, destructive
winds and very heavy rainfall.

As the storm neared a side profile of a shelf cloud came into view from behind some trees.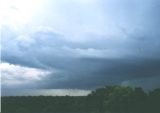 Chasers in other parts of Sydney also reported a strong lowering on the storm which may have been this feature or another updarft base which developed near the back of the storm later on. I was fooled into thinking that this shelf cloud was a wall cloud, initially, until it moved close enough for me to conclude that it was an outflow feature and after I had worked out the orientation of the storm.
The precipitation was so dense behind it that it looked like the cloud base was touching the ground.
I estimated that this area was over the Hills district about 15 km to my NW. Quite quickly, within around 10 minutes, a new area had developed much closer to my location and some very severe bolts of lightning were dropping, probably around the Hornsby- Beecroft area and a nice sharp rainfoot was visible behind the shelf cloud (see pic 5). Hmmm nasty looking I thought as this area slowly edged towards Gordon and soon I was right in the thick of it.
The lightning was among the best I have witnessed and rivalled what the 14/4 HP supercell produced. From a vantage of relative safety I watched several of the closest bolts which I have ever seen clearly hitting nearby objects (two bolts hit what appeared to be telegraph poles around 50 and 100 metres away and numerous others which were close enough to give an instantaneous explosion of thunder). The thunder associated with the closest bolts was just deafening, in part as a result of it being amplified in the undercover carpark. The rain itself was very heavy after the initial burst of CGs and also quite prolonged producing widespread flash flooding on the north shore of Sydney. As the main rain area moved through and the base structure was again visible, a lovely rounded rain free base dropped down from the northeast corner of the storm as a newupdraft pushed up.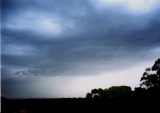 The development of this structure gave a second burst of severe lightning bolts in the area. As it moved on overhead the CGs continued and a wall cloud was visible hanging down from the base. It didn't show any rotation and was soon overwhelmed by the downdraft and took on a more ragged appearance as heavy rain and small (pea size) hail broke thorugh.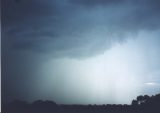 Heavy traffic ended the session at around 6:00pm. All in all, a very spectacular storm and although not quite like the 22/9 in terms of the latter's really dramatic visual appearance, it was nice to sit back in comfort and just watch this one roll in. Damaging hail was reported in Sydneys NW suburbs at around the time the second photograph was taken and in the general area of dark precipitation seen in the second photo. As the storm cleared the north shore a severe thunderstorm warning was issued by the BoM at 6:05 pm for suburbs further south.
Satellite Images
These images from Bureau of Meteorology
GMS-5 Infrared animation 99100100z - 99100113z (10am to 11pm 01/10/99 local) [763Kb]
MSL Analysis Charts
This image obtained from Bureau of Meteorology.
1pm local 1st October 1999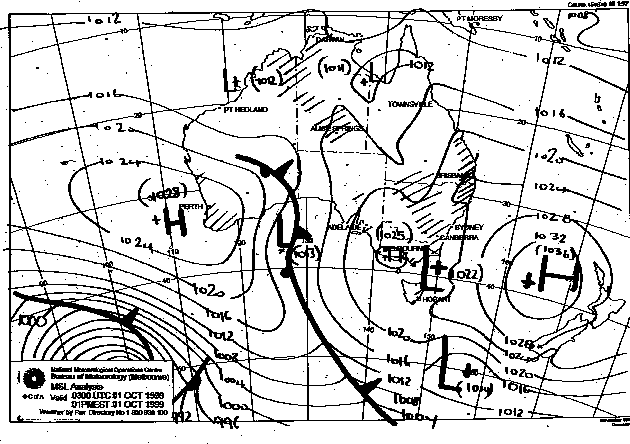 ---