---
SATURDAY 23 OCTOBER

Well last weekend was a very interesting with the rain really starting to come down on Saturday morning in Sydney and the low developing to the north. Things were looking good for a trip to the NW of Sydney.

After a quick check of the LI's and of the latest Sat pic of NSW it was decided that the best place to head would be the Dubbo area. I set off and picked up Jimmy on the way and were out of Sydney by 9am. We drove across the mountains into Lithgow through steady rain, but as we came to Orange the rain and cloud lightened up and revealed a nice looking band of rain and embedded storms. What was interesting was that it was only 11:30am at this stage. Nothing worth chasing though. The road from Orange heads N to Dubbo and the whole way up we drove through constant rain or heavy rain with the occasional strike of lightning nearby.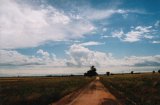 A quick phone call from Patrick and Michael Bath assured us that we were not far from the end of the band. And sure enough as we entered Dubbo at around 1pm we could see the clearing to our N and NW.
We headed N from Dubbo towards Gilgandra and stopped about half way right underneath the clearing. What a sight it was; perfect conditions also. There were storms to the N, NE, E; the rain and storm band to the SE and S with more developing stuff to our W with some great accas to be seen in the clearing to the W.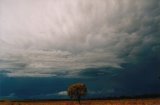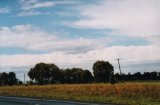 Another phone call advised us that the storm to our NE was severe. It certainly looked good with a nice boiling updraught coming from behind but it looked a bit too far to go after and considering the speed they were traveling it was decided it was not worth it and we would wait for newer cells to develop amongst the castellanus. We also noted the inflow from SE to NW of the developing storms to our NW. The visible low cloud was really being pulled into the new system and the wind on ground level was extremely strong.
We ducked into Gilgandra and picked up some lunch before heading onto the road W to Warren. We stopped about 10 kms out of Gilgandra and watched as the cloud cover had formed above and to our N to E a band of embedded storms were once again teasing us to go after them. We again stood our ground and waited for the new development (now above and to the W) to do something. There was now 100% cloud above us which is a pity as we couldn't see any vertical development. By about 3pm heavy rain dropped from the sky to the S, above us and to the N. Nothing too exciting though.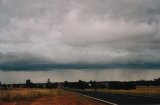 What took our attention though was the sky to the W. It had taken on a very dark appearance and so was decided we would head further W and see what we could make of it. About 10kms further we pulled over to get some shots of a now active storm. It had a very nice green tinge with what seemed to be a mixture of hail shafts and heavy rain underneath. There was however not too much lightning to be seen.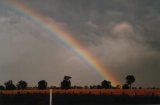 The cell passed and all that was witnessed was one very close CG and some very heavy rain. Once passed there wasn't too much further W at that stage just a lot of cloud cover. We headed back towards the storm and Dubbo but couldn't catch it. Some very nice mammatus appeared from the back end of the cloud mass and embedded decaying storm activity. At 5pm we started back the journey to Sydney. There was more developing congestus turning to cumulonimbus to our W again, but it looked very weak. Arrived back into Sydney about 10pm after traveling 900kms for the day. It was definitely worth the trip and I know it gave me a great insight on how low pressure systems affect the weather across the state.
SUNDAY 24 OCTOBER
9am - Once again a quick check of the LI's, winds and satellite and I was off to Williamtown to meet up with Jimmy. There certainly was a chance for some strong storms especially with the shear and the strong upper level winds near the Hunter and northwards.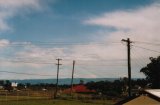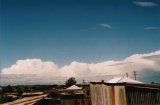 On my way out I stopped at a lookout at the end of my street with a clear view over the City and south. Well I can see why Wollongong copped a hammering. There was clear sky all around but to the south - a wall of cumulonimbus. A spectacular sight. I even had people walking past commenting on how amazing it looked, and I'm happy to say that I got some great shots and video of it.
By now it was around 10am - crap I was going to be late meeting Jimmy, but it was worth it. Headed straight up the F3 and in no time at all was past Newcastle. A quick call from Jimmy alerted me that there was already some severe storms to our north near Taree and onwards. Bulahdelah was our new target area. At Newcastle I ran into a decaying cell that was just dumping a lot of rain. I met Jimmy near Buladelah at around 12:30pm and received a call from Max who advised that the more intense cells had passed out across the sea and were moving at high speeds. There was one in particular near Taree that had been showing red for a while. Apparently there was more development to the N and NW of Taree all heading SE which at this stage was covered by low cloud.
After a quick bite it was back on to the Pacific HWY towards Taree. On the Bulladelah range we encountered a nice cell with some very heavy rain which made the trip across quite interesting. On the other side we broke clear of that cell and could see to our north through the broken middle level and low level cloud some very nice anvils. Near Nabiac at around 1 - 2pm we re-fueled and were advised by the garage owner that Taree had reported up to golf ball size hail in places from the big cell that went through about 12pm! A quick look out the window revealed a very dark base heading towards us.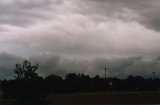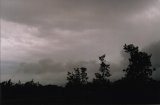 Unfortunately the low level cloud flowing into the cell was covering all the features of it. A quick look again and it was decided to head N of the cell hopefully to get a better view of it and to get out of the way of the hail. We ended up at Old Bar about 15km E of Taree and watched as the main cell passed to our south. Some weaker cells with just heavy rain passed over head but the annoying part was that the low cloud didn't clear so no significant features could be seen, not even the rear of the storm. Some more calls from Max and Anthony gave us the news that the main action had passed out to sea but there was still more developing to the W and SW.
It was now about 3pm and not wanting to be too far from home headed back to Williamtown. We got there about 4:30pm and witnessed something that I have never seen before.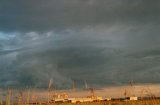 On the whole coastal fringe N and S was a mid - high level stratus type cloud. To the W and NW was just blue sky, but very dry looking. Right on the edge of the stratus cloud was a large congestus that had grown right through the cloud layer. Just that looked great but what really made it special was the fact that from side on we could see the whole formation of it very clearly. This cloud also seemed to be rotating clockwise as it rose!!!! It sure was a great example of the rotational shear that day. It was just south of Newcastle crossing the coast, no chance of going after it but a very nice sight.
What a season so far ......... and its only October!!!
Satellite Images
These images from Bureau of Meteorology
GMS-5 Infrared animation 99102220z - 99102314z (6am to midnight 23/10/99 local) [985Kb]
GMS-5 Infrared animation 99102315z - 99102410z (1am to 8pm 24/10/99 local) [1.02Mb]
MSL Analysis Charts
These images obtained from Bureau of Meteorology.
1pm local 23rd and 24th October 1999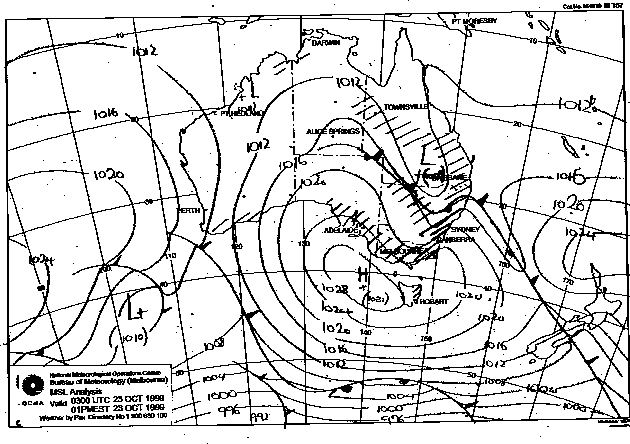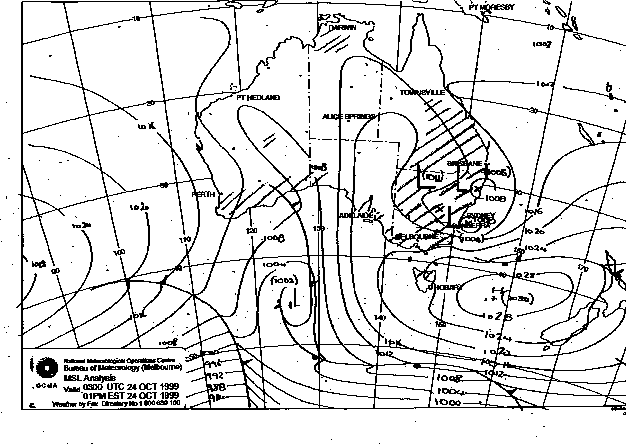 ---