---
23/10/99 8.50pm Aussie Weather email update
I've been out for about an hour watching the storms move into my region on the north coast of NSW. With the moonlight, the approaching system seems to have very high tops, but the lightning is unfortunately quite infrequent - perhaps only every 2-3 minutes. But each time it goes off, the whole line of storms lights up - probably for about 200ks in length. Quite spectacular but not good for photography.
The cell on the northern flank has been into the red on radar for a while, but it is not producing much lightning either, and there is no warning for it. Maybe its too imbedded in other shower activity to be visible?
24/10/99 8.50am Aussie Weather email update
The storm that had affected Stanthorpe early evening last night (23/10) made it to my place at 10.45pm. Torrential rain for 5 mins then not much for 10 mins, then very strong and gusty winds hit at 11pm with moderate or light rain. Lightning was still infrequent. The strong winds and rain kept up till around midnight. I had been watching this cell on radar for 4 hours, but my internet connection dropped just as it got here.
This morning there is another cell tracking ESE but a little further south than last nights, so it wont hit my location. Rumbles of thunder have been heard since 8am (currently 8.50am). The cell looks to be headed for Evans Head.
It looks like more will move in from the same direction later on. There is some accas around here, fog patches and the storm to my SW.
24/10/99 12.30pm chase begins
I headed out at 12.30pm after the radar indicated cells moving into max reflectivity between Tenterfield and Grafton. The first stop was the lookout at Rous, about 10ks S of my place that has views of the entire coastal area between the Great Divide to Tenterfield (west) and Grafton to the south. Large storm cells were well established by now. As the activity was moving along a NW-SE line it was obvious that I should head further west to seek new development areas, hopefully around Casino.
My chase took me through to Wyrallah (S of Lismore), stopping quickly for photos of the boiling updrafts to my SW. At Parrots Nest and now 1.10pm the cell of my main attention was about 30ks away, and multicellar development spread NW from there to a weaker looking cell. Continuous base lowerings, some very significant, kept my attention. Some prongs were visible but I was too far away to notice any motion, apart from the whole cell moving ESE.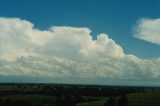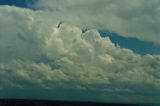 I moved closer to Casino, which is S then W from Lismore. I found another great spot in a lane off the Bruxner Hwy (there are so many here as it is nearly all cleared grazing land) and observed the main event directly to the S. The weaker cell to my west looked even weaker now, but another one had developed further NW, and with the movement towards the ESE, should move towards me.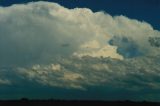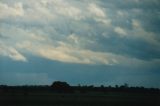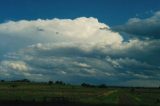 I decided to move to Casino, for 3 reasons: to get closer to the next cells (even though they looked weaker), to ensure safety if hail enveloped the area, and the cell I had been watching was heading ESE very quickly and not chaseable.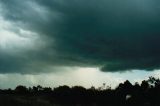 Approaching Casino just after 2pm, the cell I had been watching to the W had really got its act together. Beautiful rippled rain free base in two sections, and very quickly developing precipitation cascades. Incredible upwards motion of the scuds was just great to see, and I was only a few hundred metres from the precip. It soon had the appearence of a hail shaft, and the storm took off in a ESE direction, so I took off back E down the Hwy, trying to find a S turnoff that may lead to an intercept. After about 12ks was the Tatham turnoff. The storm was now directly S a few ks down this road, with a nice hail shaft on the right (SW) and spectacular prong from the base on the left (N flank). I filmed while driving as there was no traffic and it was flat and straight, and moved as close as I could get. The first lightning of the day (that I saw) spreared right out of the lowered base - fantastic! The storm was really moving, so I stopped and watched as the flanking line came into view. Very nice boiling updrafts kept the whole structure crisp, and the lowerings topped it off very nicely.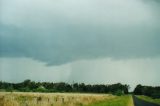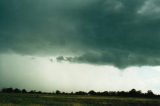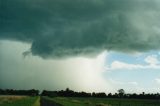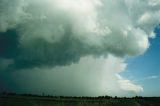 The cell I mentioned earlier to the NW was looking a bit tired now, and I did not expect it to be significant, so I decided to head after the storm that was moving away to the ESE. Even travelling at 100km/h on a road heading mostly E I could not catch up with it, but did get to a nice new position on the Coraki road, about 15ks S of Lismore. I stopped at 3pm in a laneway and watched as the storm just exploded on the rear flank - it was just incredible - this huge boiling mass punch up the backside of the storm. It really took on a supercell structure from the side I was on, a solid anvil was spreading out on both sides into the distance, topping off the spectacle. At various stages during the next 20 mins, significant lowerings developed, including a funnel shaped cloud at one stage. It was great to watch but moving away too quickly again.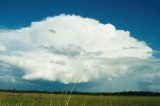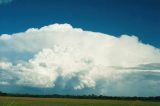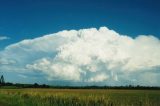 I decided to head back home at 3.30pm as drier air was preading in and no further activity was occurring to the W. Congestus got going over Lismore and gave some heavy showers, with further congestus and cbs into this evening, but all east of about Alstonville. Some lightning about, but another very low lightning count day today.
Storm Spotter Reports
On the 24th at Taree (Mid-North Coast) 6cm diameter hail and some property damage was reported in the area. At Kendall (Mid-North Coast) 5.5cm diameter hail was reported. Windows and skylights were broken and cars dented, gardens were stripped and tanks were holed. At Palmers Island (Northern Rivers) 4.4cm hail was reported and 36mm of rain fell in 15 minutes with gusts to 148 km/h. Hail 2cm in diameter was also reported from Iluka. Two sheds were demolished and crops were destroyed. Other minor damage was also reported.
Radar
These images from Bureau of Meteorology
Grafton local scale 9910232120 - 9910240100z (7.20am to 11am 24/10/99 local) [182Kb]
Grafton local scale 9910240130 - 9910240620z (11.30am to 4.20pm 24/10/99 local) [133Kb]

Satellite Images

These images from Bureau of Meteorology
GMS-5 Infrared animation 99102315z - 99102410z (1am to 8pm 24/10/99 local) [1.02Mb]

MSL Analysis Charts

This image obtained from Bureau of Meteorology.
1pm local 24th October 1999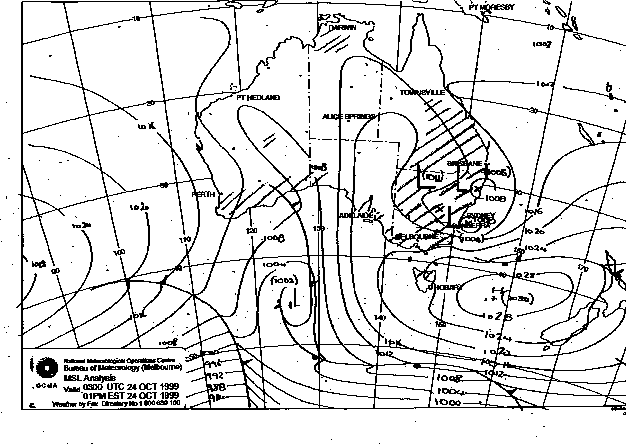 ---