---
30/12/99 8.18pm Aussie Weather email update by Anthony Cornelius
James Harris has finally ended his chase in the Hunter Valley - the roads were not favourable, and he was feeling quite tired, so wisely turned back. He has said it was an sbsolutely massive and awesome cell, it gave him hail up to 2cm, and the hail lasted about 15mins - he was able to take shelter underneath a garage - so his car was safe! He reported mammatus from the backshearing anvil... and I could go on and on with the list of things he reported (flash flooding... great CG's etc) but I don't want to spoil his fun in telling everyone in his report and photos later!
Jimmy and Dan Wx-Head were also chasing in the Hunter Valley, and from what I've heard, they saw some very nice distant features from the main cell, and also looked at a few other cells.
Michael Bath is currently chasing in NE NSW, with a very nice little cell that popped up and went into the red, it went into the pink before, but is back in the red again.
Matt Smith saw a few nice little cells on the NW suburbs of Sydney (around Richmond - Penrith) - with some RFBs and I think he saw a CG which he said he was happy with!
30/12/99 8.40pm Aussie Weather email update by Halden Boyd
Hey all... have been watching and liasing with Michael Bath who is out on a chase I believe now... his mobile it turned off and it is happening on the radar!!!!! sheesh if only I could communicate :((((((
AS IT HAPPENED IN POINT FORM
19:38
Wind here now ene 15 knots. Cell showing on radar is short and sharp upwards...
however the cell to the NE which just rained on us is building and pumping heaps
of stratus into the back cell. The Upper levels of the mammatus over here from
the back end is rotating anti clockwise...the stratus is cruising around
clockwise at about 4500 feet... I hear thunder to the NW NOW.
............
Cell has sped to the NE suddenly... wind turned sharply to the NORTHWEST...
stratus feeding from the SOUTHEAST. Upper stuff still coming from the SW. Looks
like there could be a touch of red in the cell as it heads NE to sea like last
night.
............
Thanks for that excellent description!

all I see is stratus  ....:(
............
19:39
Radar shows rebuild northeast of here now... I am looking out the window too
much.
............
19:40
No wurries buddy... if you are going out I have the phone here next to
computer... get up to Meerschaum Vale Hill.
............
19:41
Alstonville Wardell road... close to you... thunder heard again toward NW and
now in the cell to the west.
............
19:43
Good luck... another cell forming on radar about 40ks west of here... could
end up near Lismore in one hour two.
............
19:49
Travel down Wardell road till you get to top of escarpment into Meerschaum
Vale... will call you if she stays pink or turns red.
............
19:51
The radar tells me now what I have been telling you.
............

Halden says......Mike are you ok??????
---
Coraki to Ballina Severe Storm Chase Report by Michael Bath
Thanks for the message Halden - very exciting dialog ! - please check the mobile number - it is 0412 145 710, thanks to Matt Smith who gave me a few updates.
Well that was a rush chase job - out of here at 7.45pm and back just after 9pm. As Halden described a small but severe cell got its act together inland from Evans Head (near Coraki) and tracked over Ballina. The cell persisted for over six hours as the radar loop below shows - from 4pm to after 10pm. I was watching it for a number of hours very slowly propagate northeastwards with each new updraft having pilleus - indicating strong updrafts.
I sped over to Wardell road and where the Alstonville Plateau drops into the valley to the S (about 10mins away). I set up and watched this storm brew about 10ks away. At first there was just an ordinary base with stratus feeding in from the NE, but very soon lowerings developed and the lightning became frequent - mostly incloud but a few CGs as well. I took pics and videoed the developing base structure. The storm quickly moved towards me and wrapped around to the SW as well. Prongs and all sorts of arcus formations were just amazing, and should be visible on video in the fading light. I captured one staccato CG that branched into the valley in front of me, barely 3km away.
The precipitation hit very quickly about 8.30pm with violent gusts and swirling large rain drops and bits of twigs and leaves. I crawled the car towards the N and eventually got out of the deluge. No hail fell. I then headed N into Alstonville the E towards Ballina to get into the action again! Just on the outskirts of Alstonville it hit with more violent gusts and heavy rain pushing the car all over the place. This eased then picked up again even more at the intersection of Bruxner Highway and Pacific Highway, 5ks W of Ballina. There were several loud bangs on the car and I though on no - I shouldn't be here - but it was just debris off the trees with the gusts and rain. And plenty of it too. My wife was returning from Ballina and passed me here, and was not pleased with the terrible driving conditions, but I loved it. (thanks to Halden for warning my parents at Ballina of the storm). After a few minutes I decided to return home as stuff was flying everywhere! Debris covered the road up to Alstonville then it was dry with not a drop at my home. Lightning tapered off very quickly after the storm passed Ballina.
I estimate the wind gusts were up to 50 knots, but mostly 35 to 40. Rain rates would confirm what the radar showed - about 100mm/hour.
31/12/99 10.19am Aussie Weather email update by Michael Bath
The cell that I chased last night and that moved though Ballina, gave 35mm in about 20 mins at my parents place in town. "winds were swirling around from all directions".
At Pimlico about 7ks SW of town, from a caller on 2LM: "almost 2 inches of rain in 30 minutes and hail, garage door was almost blown in, mopping up water in there now, I thought it would be a repeat of 18 Dec last year".
I see a severe storm advice was issued for my region (Northern Rivers) after 1am this morning (31/12). Looking at the satpics just now it seems it all weakened before reaching here. An advice was put out for here at 8.45pm last night as well, but after the storm had crossed the coast N of Ballina.
31/12/99 3.36pm Aussie Weather email update by John Graham
I've had a unconfirmed report of 12 inches of water on the highway at West Ballina near Macca's, as well as 120km/h winds... no reports of any damage that I know of though... I couldn't go out there for 2 reasons... 1: no car... grrr 2: had to go to work... GRRR I hope there's none tonight as I've got to got to work again tonight... AAAARRRRGGGGHHHH. I've got some friends that live out at West Ballina, I'll try to get to see them soon & find out more.
Radar
These images from Bureau of Meteorology
Grafton local scale 9912300500 - 9912301150z (4.00pm to 10.50pm local) [182Kb]

Satellite Images

These images from Bureau of Meteorology
GMS-5 Visible 5pm 30/12/99
GMS-5 Infrared animation 99123002z - 99123014z (1pm 30/12/99 to 1am 31/12/99 local) [507Kb]

MSL Analysis Charts

This image obtained from Bureau of Meteorology.
2pm local 30th December 1999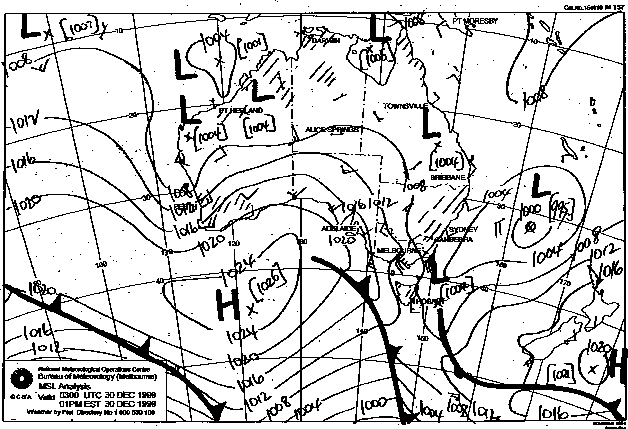 ---