---
31/12/99 4.17pm Aussie Weather email update by Halden Boyd
There are a few cells around here at the moment but at this point nothing looks very significant... I hear a few muffled rumbles from a cell which is building to the SW as I speak... perhaps later on this evening. The LI and CAPE are looking good tomorrow afternoon between the Gold Coast and the Sunshine Coast so there could be some action there.
31/12/99 5.32pm Aussie Weather email update by Anthony Cornelius
Michael Bath is out chasing in NE NSW at the moment, the BoM issued a severe thunderstorm advice for his target area at 1354 EDT. He's been chasing what he believes to be a severe multicell thunderstorm - it's lasted for about two or so hours now - MB has said it doesn't look like a supercell... rather a line of multicells with its strongest edge on the northern side - of which radar confirms. He believes this will definately have hail (yay Jimmy!!).
He's quite impressed and happy though from the tone of his voice on the phone!
I'll keep everyone updated when possible - the storm appears to be heading for Evans Head - currently, it's certainly the strongest cell on radar - with some smaller and weaker cells to its south.
---
NSW North Coast Storm Chase (Evans Head cell) Report by Halden Boyd
Just got back from a chase of the Evans Head cell which hit the village at 5.55pm EDST. Liaised at home with Michael Bath who positioned himself at Woodburn with radar updates. Ventured out at 5pm to the local airport to get a clear view. Beautiful culiform anvils (three of them) which merged as they headed upwards... about 30km across and being fed by strong cumulus tops about 4500 feet from the ENE. An outflow appeared to the SSW heading towards Woodburn with a nice shelf cloud to the SE of it. There appeared to be a small gustnado. Best mammatus I have seen for some time ahead of it with lightning occasionally snaking to the ground in it. Sped off towards Woodburn... didn't make it to Woodburn... bugged Michael heaps on the mobile (sorry mate) as the cell suddenly appeared to turn back towards Evans Head. I turned around and just overtook it and got a great shot of it (shelf cloud) as the rain hit Evans Head! Tookoff ahead of it to the local lookout... leaves swirling everywhere but basically being pushed by the strong SW outflow. I was doing 80km/hr and just keeping pace with... lucky there were no cops around because it is a 50K zone!! Made the lookout as the 50 knot SE hit. Did a shot through the car windscreen before white out. Hail for 5 minutes pea sized but not intense. Fair bit of lightning too. Crawled home for cover. The rain has just stopped at 6.22pm. Rainfall 17mm. A good sharp storm... and covered from the east and the west thanks to Michael Bath!!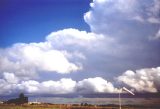 Evans Head Airport 5pm looking southeast. Big inflow of stratocumulus from ENE tops approximately 4500 feet. The upper two cells in this picture are clear, but were merging and going to cumliform and towering.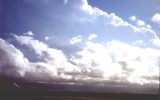 Evans Head Airport 5pm loooking southwest. Big inflow of stratocumulus from ENE tops approximately 4500 feet. The third cell to the rear was starting to interact violently upwards and going full-on into cumliform and there was distinct arcus under it with what appeared to be a small gustnado to the rear. At this point is appeared to be heading NW towards Woodburn.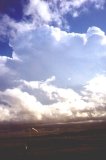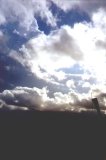 Rapid development of the cell now and getting black with a distinct arcus and gustnado. Telephoned Michael Bath at Woodburn and said I was heading over as a matter of priority and I would meet him. Time 5.25pm EDST.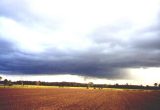 Stopped the car 2kms east of Woodburn after looking for a cane field clearing. There it was! Spinning violently. I rang Michael and advised him I was heading back toward Evans Head to chase it. There was a distant snaking gustnado. I waited 2 minutes and took another shot.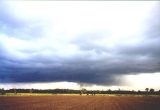 It was getting closer and I started to worry... phoned Michael again and said I was heading off. He was just about to cop the rain curtain. To me the gustnado was looking serious and like touching down. I was excited and frightened when I took this shot and headed off. There is a clear gustnado coming out of the mamatus in front of the spinning arcus. Mike asked if there was any place I could take cover.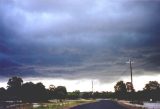 Headed east back towards Evans Head and outpaced it. There was a new subdivision 5km west from Evans Head so I shot down the road. Wind started to pick up... lightning everywhere... the arcus was now rolling under the front... no sign of gustnado now.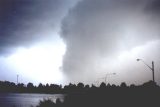 5.55pm at Evans Head bridge looking southeast. The arcus was rolling under and there was heaps of lightning and then I was hit by a wall of torrential rain. Time to get out of here too. Headed toward the lookout about a kilometre away to the north. Out ran the rain curtain and there were leaves swirling along the road in front of me. I was doing 80km/hr.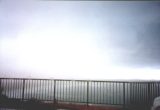 Arrived at the lookout and there was a whiteout. Hail pea sized lasting 2 minutes. Crawled home... 6.20pm it was all over... 17mm in the gauge. What a storm it was!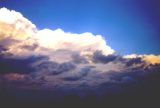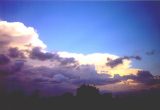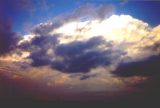 Images of the cell taken looking northeast from Woodburn 7.30pm 31st December 1999. What a fantastic New Year's gift it was!
31/12/99 10.47pm Aussie Weather email update by Anthony Cornelius
A nice lightning show to the SE, from a nice cell that formed over NE NSW today - it's now off the Gold Coast and out to sea. Very frequent lightning, about 3-4 flashes a second! The storm itself looks quite impressive!
Some (thundery?) showers are popping up on the border ranges to the SW/SSW - I'm watching these very closely, some Altocumulus Castellanus about, I'm currently sitting on 24.9C, DP is 20C and a light NE'er.
Will keep people updated should anything occur
31/12/99 11.11pm Aussie Weather email update by Ben Quinn
Probably the best lightning display of the year visible to the ESE tonight... absolutely jaw dropping stuff - lightning up to 3-4 times a second, and not like the storm last night where there were 2-3 second gaps in between the lightning every now and then - this lightning is constant, with very few breaks... there are periods of up to 4 seconds or so when there is not lightning in some part of the storm.
The best count I had (over 60 seconds) was 92 flashes... it was probably even more frequent at times, but somehow COUNTING the lightning flashes takes the fun out of it for me!
Lightning Tracker is only picking up about 63 CGs every 5 minutes at the moment, but 90% + of all the lightning is in cloud lightning.
It's quite warm here (Brisbane) at the moment, with a temp of 23c at the airport and a DP of 20c - AVN has been forecasting overnight showers or possibly storms for the past 24-36 hours, and there are currently some thundery showers on the border ranges (very sporadic lightning from them) - hopefully they will get going soon..
I have a feeling SE QLD is going to get clobbered overnight or tomorrow (more likely tomorrow).. it largely depends on how far north the SE change gets (which should be somewhere in NE NSW by now).
Just looking outside now, the storm has calmed down slightly with lightning mostly one per second now. What a great way to end the year!!!!!!
BRING IT ON!!!!!!!!!!!!!!!!!!!!!!!!!!!!!!!!!!!!!!!!!!!!!!!!!!!!!!!!!!!!!!!!!!!!!!!!!!!!!!!!!!!!!!!!!!!!!!!!!!!!!!!!
01/01/2000 12.25pm Aussie Weather email update by Paul Graham
Hi everyone, I was watching the Evans Head storm on the radar yesterday afternoon and I suspect it was probably a supercell given the intense radar echoes, long duration, NE movement relative to the NW steering winds and relative isolation compared to other cells to the SW. Although difficult to discern from the Weatherwatch rdar, it also appeared to have a bow echo at one stage. Does anyone know if there was any damage reported?
01/01/2000 12.59pm Aussie Weather email update by Michael Bath
Although I have not seen any radar of this, I can confirm that it was not a supercell - definitely severe multicell which developed about 3.30pm NW of Grafton and cleared the coast through Evans Head after 6pm. The system was slow moving and strong.
I had a perfect view of this storm from it's initial development (chase report following soon) and it only indicated multicell, with new updrafts developing on the NW flank every 30 minutes or so. Very little backshearing occurred. Precipitation was along a long line towards the E. Once the base came into view, I could see lowerings in two to three places along the line indicating the separate updrafts.
It did produce very strong winds (up to 50 knots) and small hail (was reported so far). Full description to follow.
---
NSW North Coast Storm Chase (Evans Head cell) Report by Michael Bath