---
A spectacular start was made to the new year at Armidale when a massive hailstorm swept through the city in the late afternoon of the 1st of January 2000.

The huge thundercloud built up to the south-west of the northern tablelands city from about 5pm onwards giving warning rumbling sounds which gradually increased. At 5.45pm the thunder was almost continuous as the sky darkened. At this stage the storm cloud was partially obscured by low ragged stratus cloud which was swirling across the sky blown by gusting south-easterly winds.

At 5.50pm rain started falling as the cloud moved in from the south-west. A roaring sound was heard from the south. This was the band of hail approaching, the roaring being the sound of millions of hailstones hitting roofs.

At 5.55pm the first hailstones started falling in the CBD. They were few at first, but rapidly increased. For about five minutes the the large hailstones pelted down, then became smaller but continued for another ten minutes.

At 6.10pm the hail stopped, but heavy rain continued until around 6.50pm.

The hailstones came in all sizes, the biggest measured 40 millimetres in diameter (golf ball size). Most were roughly spherical, only a few were conglomerates of multiple stones fused together. The ground was completely covered by the hailstones, several centimetres deep in places, and large open areas of the city resembled snowfields. The ice banked up deeply against south-facing walls and fences and much of it was still there the next morning, not completely melting until around midday.

The hail affected the whole city as was well as some surrounding areas. It appears to have started some 10 or 15 kilometres to the south-west of Armidale and continued several kilometres to the north, after lashing the city, before dissipating.

Rainfall including melted hail recorded in the hour from 5.50 to 6.50pm was 26.8 millimetres which caused flash flooding in Dumaresq Creek with water covering many of the causeways in the city. Very cold air was swept in by the storm. The temperature dropped from 17 degrees at 5.45pm to 9 degrees at 6pm, and the minimum temperature the following morning was just 4.2 degrees which is unusually low for January.

Damage to the city included hundreds of destroyed gardens, leaves and branches stripped from trees, cracked roof tiles, broken skylights, smashed windows, and a large number of dented vehicles including new and used cars at car yards. Many householders also suffered water leaking into homes as a result of blocked and overflowing roof gutters.

This was Armidale's second major hailstorm in recent times. The city was struck by a particularly savage storm on 29th September 1996 with a damage bill of around 200 million dollars. This latest storm however was less severe with the total bill being much lower.
Radar
These images from Bureau of Meteorology
Grafton local scale 200001010540 - 200001010930z (4.40pm to 8.30pm local) [140Kb]
Satellite Images
These images from Bureau of Meteorology
GMS-5 Visible 5pm 01/01/2000
GMS-5 Infrared animation 2000010100z - 2000010113z (11am to midnight 01/01/2000 local) [564Kb]
MSL Analysis Charts
This image obtained from Bureau of Meteorology.
2pm local 1st January 2000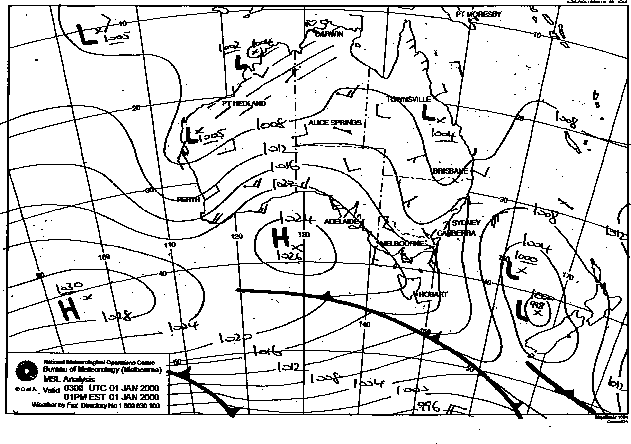 ---