---
Episode 3
This part of the chase represented the most significant supercells on this entire Thunder Down Under chase. Perhaps not as spectacular contrast wise but certainly the best in terms of wind shear and also ideal conditions for the development of rotating supercells.
Wednesday 6th December 2000
The model run was as perfect as the run from the night before. It was however difficult to tell exactly where to place ourselves. I did believe storms were more likely along the ranges and into the Hunter based on the instability potential and also the windshear that would steer the storms northeast (or even northerly if they moved left). My decision was solely derived from the fact that if storms developed say near Lithgow, and became supercells they would certainly move left into the Hunter region.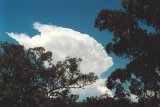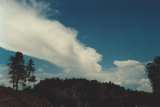 Mario and I left Sydney after some battery problems early, which I took as a positive omen. The Wollemi National Park did not disappoint us with the usual ride along the Putty Road providing opportunities to occasionally view developing cells.
One cell in particular produced a persistent anvil that lasted the whole trip into the Hunter and persisted for about an hour wilst at Bulga. It was quite hot so we decided to kill a little time and grab a bite to eat. When we finished, more development had occurred but nothing so significant. But we didn't have to wait long.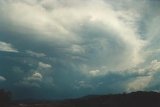 I could see the anvil beginning to strengthen and also showed a sign of cyclonic curvature. The storm had suddenly decided it would make its move and the flanking line exploded. It was moving generally north and was now a left mover. On radar it, had exploded moving north well to the left of the mean level winds and also much stronger than any surrounding storms. Other storms were moving east southeast and were much weaker in comparison.
We made our way to Jerrys Plains and noted at one stage a lowering that was consistent to a wall cloud structure. But due to the hills, we lost sight of the feature. It became frustrating to find a position to view this area of the storm. We finally stopped along the bypass to Muswellbrook. This was the best position we could get. Ideally we would have liked to be 5km nearer to the storm but there were simply no roads!!
We watched as the storm took on a supercell structure and also produced a funnel on two occasions; one of them a major funnel. Unfortunately we will never know if this eventually touched down.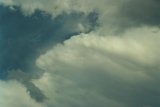 Paul Graham suggested that a hook echo seemned to be showing on radar about this time. Contrast was disappointing as the storm was aligned north to south from the anvil towards the rear of the storm. This meant that it remained sunny making it difficult to observe, photograph and video significant features.
We then decided to improve our position by heading closer to Jerrys Plains. It did improve the contrast a little. As the storm aproached, the famous green tinge began to "glow" through the dark bases above us. We got a phone call from Andrew and company making their way to the Hunter from the Putty Road. They warned us that hail up to 5cm was likely in this storm. They had experienced smaller hail and measured hail after the event around Howes Valley of up to 4cm.
Suddenly, we observed a very thin funnel extending from a lowering at least half way to the ground. Unfortunately, we don't have this on film as we were not ready by the time we noticed (and believed) its existence. I would say it lasted in this state about 15 seconds. I have never observed such a thin funnel nor would I have expected it. As the storm neared and microbursts hit, we made our move and remained ahead of it.
The storm didn't seem to be moving rapidly but the micobursts were certainly extending their influence. At the time we approached Muswellbrook, we noticed the lowering again organising. There seemed to be definite rotation. It was about 4pm and Paul Graham suggested that a second hook echo had possibly appeared on radar.
From this time onwards, the storm showed signs of becoming outflow dominated. We followed the storm northwards and watched it weaken as well as other storms also developing but more wisepread smaller cells.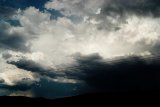 We basically didn't wait for another storm approaching Singleton which may have been another supercell but it would have weakened at this latter stage of the evening.
Besides some activity from a line of severe storms approaching from Mudgee, we called it quits and observed the video of the day's activity.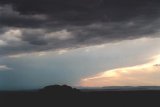 It was interesting to note although not conclusive a funnel (and possible tornado) again observed around 4pm on Andrew MacDonald's video footage, consistent with our observation of the rotation.

Thursday 7th December 2000
After staying the night at Quirindi, we eventually made our way to Tamworth to check the models. The target area was the Mid North Coast based on the instability but if storms did develop further north say around Grafton, they were likely to become more severe as the moisture profile was more ideal.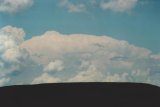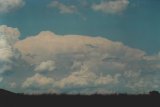 We joked around about going to the Dorrigo area. I felt I wanted to but something stopped me. Even at Walcha I discussed with Mario that we had the opportunity to go towards Armidale and then onto that region. But what if it fired on the Mid-North Coast? We helplessly watched the main supercell of the day already developing near Dorrigo as we made our way towards the start of the winding roads. We also found there was 42 or so kilometres of winding road that didn't help. The supercell near Dorrigo produced cricket ball sized hail in a path from Nymboida to Casino and Kyogle. The storm continued on over the border through Beaudesert area and off the coast.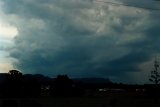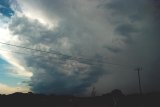 We did get some consolation with a right moving supercell near Wauchope but the area is hard to observe storms so Mario and I headed north to Kempsey. Basically we were observing rain and storms during the afternoon. Cloud began to break during the evening with some nice cells developing.
I was interested in the cells to the far southwest and decided it would be great to stay the night at Dorrigo and observe some storms come through. I videod my first excellent examples of anvil crawlers which made up for the disappointment earlier.
12/07/2000 anvil crawler ending with lightning strike [0.51mb WMV]
Friday 8th December 2000
Our plan being at Dorrigo was to be in the area where activity would develop and then make our way north towards Grafton through Nymboida. The models were suggesting excellent windshear yet again and left moving supercells would move generally north if they developed.
After waiting at a spot about 5km west of Dorrigo, we made our way slowly to the higher parts with elevation 1400m. It wasn't long before the large cumulus broke the cap and began to tower and rapidly develop. In fact, even though we made our move, the rain developed before we could get to the Nymboida region. It was some of the heaviest rain I had driven through with visibility reduced immensely.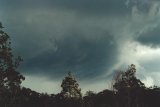 Just passed Nymboida, we found ourselves on the edge of the storm. Further down the road, we again observed rotation and another possible wall cloud. This persisted until we met Andrew MacDonald and Matt Smith along the road who also had observed this feature.
Mario and I made our way to south Grafton. It was interesting to note that besides watching the weather, a local came passed with his truck and waved. He then came back and we waved and then he came a third time. As I waved he suddenly stopped. "Is there anything in that field you're interested in?" After we explained that we were storm chasers, he felt somewhat guilty but I assured him that he was in his rights and he should be concerned. And he was off.
We noted some activity to the south but it wasn't very strong activity and the fact that it was finding it hard to break the cap was very encouraging. The conditions had improved with drier air being advected through the middle layers. A phone call from Paul Graham seemed to support this. I was little hesitant earlier about this area because of too much middle level moisture. Mario and I commented on the excellent lower level shear observed in the lower cumulus.
We decided it was time for a lunch break so we headed for a local service station. We initially had planned to stay there to eat, but the structure of the developing large cumulus caught me eye.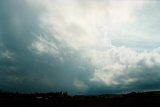 I then realised that a storm was starting to develop north of the activity we had been observing. As we made our way to the western part of South Grafton, the adrenalin rush began. This storm had split and was rapidly developing into a supercell. The low cloud had disappeared. The side anvil sheared towards us and also the back end flanking line had a hazy soft appearance I had observed in the Coffs Harbour event. The storm was growing as we watched.
What got me excited was the separation of the precipitation cascade from the main body of the storm. I commented about this to Mario as we photographed and videoed the storm.This meant the storm was very well organised and would maintain itself. The base of the main tower was developing very low to the ground and a wall cloud was starting to develop. Suddenly, I heard the thunder from behind!! I knew immediately what had happened. A lightning bolt had struck behind coming out of the flanking line or anvil. We were in the car in a flash.
The storm was begining to make a move and growing rapidly in size and height. To keep ahead, we made our way to northern parts of Grafton with Mario taking some great video footage of the wall cloud region. The storm was beginning to drop microbursts and therefore was becoming outflow dominated. The wall cloud persisted and produced a funnel as we made our way towards Whiporie, half way between Grafton and Casino. The storm was moving rapidly probably at a speed of about 70km/h. This was by far the fasted moving cell of the chase. The main activity though was now starting to get away from us towards the east of the road. So we decided to let this one go and headed south again. (This storm headed to the Lismore area and Michael Bath took some interesting footage and photographs of this cell. It had certainly maintained its structure).
We observed, photographed and attempted to chase a couple of supercells towards Coffs Harbour. However, the storms had developed rapidly along a trough line which was clearing the activity off the coast.
I believe the storm in the third photograph was an LP supercell as it developed along the dry line as it moved through the region clearing all the major supercells off thc coast.
This marked the end of the activity and the basic end of the chase. There was some activity the next day but mainly along the ranges. Some nice large anvils though. On Sunday, Mario and I gradually made our way to Sydney.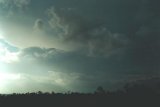 Conclusions
The chase provided us with ample activity that surprised me. We were hoping to get supercells but to get the amount of activity we got was beyond comprehension. I felt very satisified I had learned a lot from the experiences of this chase adding to the experience of other storm chases this season. Using a science laboratory as an ananolgy, the experiment provided positive results and ample opportunity to observe some incredible events. I can safely say, this chase was obviously far more successful than the 1999 Thunder Down Under chase.
The last three days in particular provided some near tornadic (if not tornadic) outbreak conditions. I truly believe that knowledge from chasing storms in various conditions and different regions provides invaluable knowledge. Comparing this with the research literature and with storm features observed in the United States will certainly verify that Australia does have the ideal setup for supercells and tornadoes that has often been speculated in previous studies. This chase has provided visual evidence of this. It is a matter of time when an ideal major tornadic outbreak occurs in an area that chasers will be able to get to. I always wonder what we could have done with the September 29th 1996 spring tornadic outbreak.
---
The Thunder Down Under Chase 2000 - Special Report: Episode 1
The Thunder Down Under Chase 2000 - Special Report: Episode 2
---