---
Jeff Brislane's report of the same storm is here
The models had the day being an obviously severe thunderstorm event but mainly along the ranges from the south and gradually moving north. The steering winds were from the south. The moisture profile was good and I expected hail from some of these storms. But I was to go work that day.
After work, there were obvious anvils from the storms to the south moving overhead through the Sydney region. The skies looked threatening but it was obvious that storms were most likely to remain on the ranges or far western suburbs of the Sydney region. Matt Smith was chasing towards Bowral. There was a warning and advice out for the region already including large hailstones.
I had to go to the bank so I went to the Richmond branch. Once finished with the choirs, I found that the weather had suddenly become more interesting and a fair bit darker. I headed for some more open areas outside of town and all you could get is trees along the road even in Richmond?? - it's a storm chasing nightmare.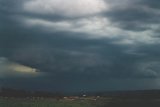 Anyway, the cloud base had a green tinge and there were periods of pulsating lightning bolts from the storm. The storm was over the lower Blue Mountains region at this stage (locals in the area described storm as having intense lightning - well let's say not the best time was had by those with storm fobias). There were some suspicious lowerings from the northern part of this storm.
The storm gradually moved towards the Castlereagh region so I headed just south of Agnes Banks. Here I observed some impressive bolts but of course, one must come to expect that they may turn the video camera off just before a beauty strikes!! This happened a couple of times for me. I was not impressed.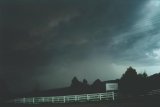 Anyway, I noted that although the storm was slow moving and putting up cells on the outflow regions, it didn't come close enough to me so I decided to head towards Richmond and closer to the action. By closer I meant straight through it. What an experience this period was in this chase. Lightning flashes were fairly frequent and some of the cloud to ground lightning bolts were close and therefore producing deep booms despite the heavy rain and closed windows. There even was a lightning bolt producing a green plasma glow which normally is observed at night - a sign of just how dark it was. The rain was heavy and it was reasonably dark despite being well before evening.
I headed slowly through to Windsor with the storm showing no signs of easing. I parked at a local petrol station and simply watched and filmed. Mario Orazem phoned and I described with excitement what was happening. All of a sudden, a lightning bolt hit about 200 metres across the road and was captured on video. The thunder was like a shotgun!!
Feel free to download the short video clip WMV of this lightning striking 200 metres away with sound. 2.77mb WMV
Here are some video stills for those who would rather not download the video itself.
I was enjoying every bit of the experience. Even small hail began falling whilst parked there. Eventually, after filming for a while and wanting a different environment within the storm, I moved towards McGraths Hill.
What a stupid move... I was heading out of the storm. So I turned left towards Oakville and then back towards Pittown which is not far from Windsor. There were still cloud to ground lightning in active areas of the storm and some steady rainfall there. Low lying areas were covered by severe run off and some slight flooding.
I made my way north towards Wisemans Ferry. I stopped at one spot with a slight view amongst all the trees. Well I saw one bolt of lightning pulse and then another one hit around the same area. Disgusted, I just started moving and filmed, commenting on the fact I missed these two. Around one bend, through a clearing of trees and flash!! Bang!! A lighting bolt hit a tree about a hundred or so metres away, creating a blue spark and setting it burning for a few seconds. Again the thunder was like a shot gun despite the windows being up. I would hate to imagine if the windows were down... And around another bend, I filmed a small black dog racing across the road in fright - running towards where the lightning was???
Feel free to download the short video clip WMV of this second lightning striking the tree with sound - 2.33mb
Here are some video stills for those who would rather not download the video itself.
After this, it was basically all over. Lightning activity was waning and most of the new development would have been well north. So I basically called it quits. I rang Matt Smith who was also chasing this storm and we decided to meet at the Mean Fiddler (Irish Pub) to discuss the storm over a few drinks. We both agreed that this was one hell of a storm. I also commented that nothing on the three week chasing matched the length of this intensive activity.
---