---
Introduction
This event was the first of its type I had chased. It was a cold pool and cut-off low strengthening off the coast. It was to provide an opportunity for an up close encounter of a variety of weather conditions: namely storms, snow and even waterspouts.
More photographs and information is expected to be posted soon.
Please view some much more spectacular photographs by Tim Crugeon in his report of the same event in the Barrington Tops.
26th August 2001
Geoff Thurtell and myself studied the models intensely the day before and felt that there was a good possibility for snow to occur later on Sunday afternoon. However, each avn model run would delay or should I say correct marginal errors of the weather expected. The avnPlotter came in handy making it extremely easy to plot several variables of the models time and time again. We were interested in chasing snow but at the back of our minds, storms were also on the cards. Wind shear was ideal and teamed with sufficient lower level windshear, potentially good storms were possible.
Finally on the morning, we made the decision not to go after the snow as we had previously thought: we would chase thunderstorms. There was a trough persisting in the region north of Newcastle. I simply could not let it go unattended. We still took our supplies of food and water prepared for any possible snow trip.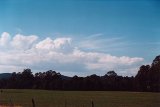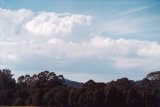 Up the F3 freeway, you could observe signs of the positioning of the trough from the altocumulus castellanus. Finally, we made it to our target region just south of Stroud at a place called Booral. Just an observation session though to see if we needed to head east. The trough was to the east but still maintaining position. Cumulus congestus developing along the trough. This persisted even when we got established at Stroud.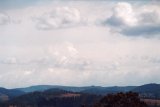 We located ourselves on the premises of the local Stroud Golf Club. There were reasonable views. The day was warming and occasional cumulus developed over the higher peaks of the Barrington Tops to our west and northwest and drifted in the wind field southeast.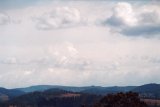 Cirrostratus and altostratus began to increase to the west as part of the approaching cloud band. Of course, we were observing the embedded cumulonimbus amongst the cloud band to the west.
A line of cumulus developed and began to grow rapidly almost overhead. Winds were still north to northeasterly. Any development had to occur before the cloud band moved over. But it wasn't to be. Winds turned northwesterly and the cumulus clouds rapidly collapsed. We now had to concentrate on the approaching cloud band.
We moved to Dungog and had lunch - noting that there were medium but growing cumulus around as well as another large cumulus to the south. These quickly organised and developed to our west and northwest. After lunch, we had to decide where we would move to. I noticed higher ground overlooking Dungog. This allowed better viewing of the development.
It was here we noticed the first lightning bolts and also development of rainfree bases. Some hailshafts were observed as it dumped including an increase in electrical activity. We watched the storm head just to our southwest and then moved south.
The storms were not very spectacular though did have some localised downbursts. We rode the edge of this system in and out of the precipitation edge until we got to Williamtown. A shelf cloud structure could be observed.
From here on end, it became dull, and it was starting to cool down. After some site-seeing, we headed back to Sydney. The approaching rain band was not that exciting despite lightning static activity being observed.
27th August 2001
It was not unexpected when reports of snow was aired over the media during the morning and SMS reports amongst ASWA members. My thoughts though was that with early morning rain, it would have been great to be out in the snow country. I arrived to school noting I had an easy day - return favour from the deputy Principal. Well, all I could see on my sheet was SNOW CHASE....... I was thrilled.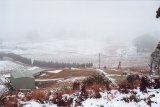 Anyway, I eventually finished at 12:30pm and was on my way out by 1:00pm getting to Mt Lambie about 2:30pm or so. There was some sago snow on the higher reaches of the Bells Line Road. I did not venture to Oberon because of the road closures... I could see snow on Mt Lambie from the service station on the Great Western Highway below the summit. I looked for and quickly determined the entrance road to the summit (elevation 1290m). It wound its way up the hill and the snow patches turned to a widespread reasonable cover. Some sago snow was falling as I rose in elevation. I took a few photos and some video of the snow depth. Eventually I made it to the top and watched some snow showers with cold fresh winds come across. It was quite interesting watching the cloud hug some of the hills and come across from time to time.
But there wasn't to be any heavy snow falls and neither was I expecting any since I was too late. It was reasonably cold but starting to warm a little and the rain was only light. I called it quits around 5:10pm and headed down. I then noted that the depth of snow I had passed was about a foot deep protected from the winds in the gutter. Wow!!! I took some pictures and video of this as it is the deepest snow I have seen yet. Well a small area of it anyway.
Now I made it to the highway and received an SMS from Tim Pascoe who had observed 4 funnels (waterspouts)!!! What a system this had turned out to be. Storms, then snow, then waterspouts off the coast. Here is an account of Tim's observations:
....I was playing table tennis with my 2 nephews, when my sister- in-law opened the garage door, and there it was........right in front of my eyes!!

It was in line with Long Reef headland, and touching all the way to the ocean........it was much..much bigger than the small one I saw that day of Mona Vale. I commented to the other 2, just to make sure I wansn't seeing things, they couldnt believe it either!!!!!

The house I am living in at the moment is the biggest nicest house, which is located RIGHT on Narrabeen Beach!!, so if my sister inlaw didn't open the door at that time, I would have missed it, not only that one but the other three!!

It was touching all the way, I wasn't going to grab my camera as I wanted to enjoy the whole thing, my camera gear had been packed away, to make things worse, my wife was sleeping in the bedroom from a bad headache.

I thought I can't let this thing go without taking at least one shot, so I asked the boys to keep me updated as I ran as fast as I could upstairs, they kept yelling

"ITS STILL THERE", "ITS STILL THERE"

I came bolting out, and realised I had the wrong camera, so I had to go back in to the room and grab another one, then try and load film in a manual camera, have you ever tried that one??

I started rattling off shots, but using a manual camera and try to get everything correct, was very difficult, the exposure had to be perfect without camera shake, as I had my 200 mm lense on full zoom.....not good when you try to shoot at 60th of a second.

But going through all that, it was still quite strong, so all up it lasted probably around 5-6 minutes. The cloud base was very long and low and seemed to be moving North/ North West, with the twisters moving in the same direction.

After the first one that lasted that time, within a few minutes there was another.... not nearly as strong, but with the binnoculars, you could see it touching the ocean. It had only lasted around 2-3 minutes. The other 2 that followed, were not as strong, but very entertaining and very much worth reporting, unbelievable.

It was truly a blessing seeing a real phenomena like this one.
I must say I have chased storms, observed lightning and tornadoes, but I have yet to observe a waterspout.
Click on a black and white photograph of the water spout.
---