---
All times are Australian Eastern Standards Time which is UTC + 10.
Click on images for larger view.
Move your mouse pointer over images for captions and times photos were taken.
All photos were taken from my home in Wollongbar
---
The day started out quite hazy and cool. However the sun was shining brightly which I was quite excited about as I knew that the storms wouldn't develop well if the cloud band had moved over. However when I checked the satpic, I saw that the cloud band wasn't too far away and within an hour it was quite dull, and the temperature hovered around 15-16 degrees. Before the cloudband had covered the sky some ACCAS was visible along with some AC.
It remained this way for most of the day, with a few sunny breaks around lunch time. I was waiting around all day to see if anything would happen. All afternoon it stayed overcast and quite dark with some very light drizzle. At around 4pm it began to get going out in S QLD.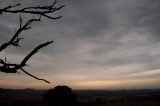 Storms were going to move in a ESE to SE direction, so anything that developed there would hit this area if it made it that far. I was very doubtful that it would make it, but Michael Bath seemed much more confident. There was a great looking cell to the WNW of Warwick that I was keeping my eye on as it would be the one to make it to our area if it lasted. It was showing 'red' in a number of scans. It was going to be a little while so I logged of the net and ate some dinner. At about 7.15pm I logged on to see what was happening. Lightning Tracker was going off!!! It looked like a line of cells from N to S had developed, although they didn't look all that impressive. I went upstairs in our house to see if I could detect any lightning. I saw 2 very dull flashes to the WNW in about 3 minutes. So I logged off again and watched a bit of TV. At around 7.45pm Michael gave me a call to say it was all happening now. I raced upstairs to have a look and saw constant lightning flashes from the N right down to the SW where my view was cut off as I was inside. I raced back downstairs to log on to the net again and radar looked quite impressive. Thunder was now audible. I checked Tracker again, which was going ballistic and then grabbed the tripod and digital camera (which were all charged, setup and ready to go) and raced upstairs. I jumped out the window (it's ok, there is about 2m of roof below the window that is relatively flat) and adjusted the tripod, setup the settings on my camera and I was away. Lightning was every second or more!!! Most of it was CC's but some very impressive CG's appeared as well. My camera was set on 16sec shutter speed, which is it's highest setting, so it was more than enough for the amount of lightning that was occurring.
My brother, sister in law and a friend all came up on the roof to watch the show with me. The inflow into the storm was really warm, and felt quite pleasant. The others were cold though so next the doonas came onto the roof. My brother was a little worried of hail falling on his car so I volunteered to check radar for him, as long as he kept taking pics for me. I raced downstairs and the TV was going physco!!! It was on Channel 7 and if you remember in Twister when the TV signal kept zapping in and out, well, it was just like that. Our TV towers are located directly N of my place and we could see the lightning in that area. So I unplugged the TV. I then checked radar and was astounded at how the line of cells had rapidly developed!! It looked like a serious squall line. I shutdown the computer, unplugged all the appliances and then raced upstairs and suggested that there would be hail, but only small. My brother is afraid of snow falling on his car so he went downstairs to put the car undercover. The lightning was drawing closer and we could make out a shelf cloud.
Me and my brother noticed a few lowerings, one looked like a gustnado. The CG's began to die a little and it was mainly CC's that were in the cloud. However I kept taking photos. It began to sprinkle at about 8.25pm. And then at 8.30pm it hit!! The shelf cloud moved over us and the winds picked up. They weren't very strong, just a little gusty. It was at this point we had to clamber inside quickly as rain was blowing in on us. Doonas and legs were flying everywhere trying to dive inside. Meanwhile I kept taking photos just next to the chaos of people climbing indoors. Once they were all in I moved the camera inside and started taking pics from right at the window. Hardly any rain blew in the window so it wasn't a concern. The rain was really blowing against the western window upstairs, I had my camera pointing out the northern window.
Then I heard a 'clink' against the window. I yelled out to 'here it comes'!!!!! The hail started. It was great, about 3 seconds after I said to my brother 'I hope it starts hailing' it did!!! It was only pea sized, up to 1cm which was good because we only wanted the pea sized stuff. I told my bother to go downstairs with an umbrella and cup and get me some hail so I could measure it and get a photo later on. Meanwhile I kept taking pics!! There wasn't much hail overall, and the guts of the storm was over in about 20mins.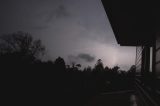 Lightning and thunder continued on for a while and the strong cold winds began. The cold front had arrived!! Heavy rain also continued for quite sometime after the storm. When I had finished taking lightning pics I came downstairs to photograph the hail in the freezer, but because my brother had put it in a warm cup, it had all melted!! Oh well, I got to see some at least. When we started up the PC again and logged onto the net we were amazed!! The cell had gone 'red' right over us!! The squall line was quite impressive. It was at this time that I noticed the STA.
TOP PRIORITY FOR IMMEDIATE BROADCAST

NSW Severe Thunderstorm Advice
BUREAU OF METEOROLOGY
NEW SOUTH WALES REGIONAL OFFICE
Issued at 1941 on Saturday the 1st of September 2001

The Bureau of Meteorology in Sydney has issued a Severe Thunderstorm Advice
affecting people in the following weather district:

Northern Rivers

Thunderstorms are forecast within the advice area this evening. Some of
these are expected to be severe bringing damaging winds, large hailstones
and very heavy rainfall.

It had been issued hours earlier but problems with the BoM prevented them being released onto their website. An hour later when I was flicking through the channels, I noticed ABC was down. It remained this way until after 11.30pm. What a great event! My brother and I concluded that they are the best storms to have, you get all the elements of a storm: strong winds, heavy rain, constant lightning, and hail, but none of it is severe. It sure was a surprise to me to get a storm of that intensity. I had been expecting thundery showers. A great start to spring and a positive start to the storm season ahead.
For those that were interested, here's a pic of the ledge on the 2nd story that I took the photos from.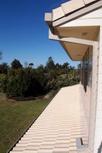 ---
Radar
From Bureau of Meteorology.
Grafton local scale loop 0830z to 1200z 01/09/2001 (6.30pm to 10.00pm local)
---
Satellite Images
From Bureau of Meteorology.
GMS-5 Infrared animation 03z to 16z 1/09/2001
---
Other storm observations
By Stuart MacDonald:
The weather on the morning of 1st September 2001 was clear and hazy. However during the morning a band of cloud moved in from the west and I noticed how quickly this cloud was moving. There must have been strong middle level winds. The day looked like a summmers day but didn't feel like it.

Around lunch time the cloud started to break up and all the time there was the illusion that it was going to rain and set in or even be a storm. The sky did look suspicious with the haze and type of cloud being some AC and CS with a mixture of cumulous. I checked on the radar and lightning tracker during the morning and saw one strike inland from here and the radar indicated some light patches scattered.

During the afternoon cloud bands moved across. The interesting feature of the day was that the cloud looked menacing and looked like it was going to rain at any time. This was I believe due to the haze. The lighter parts of the sky had an orange tinge and it even reminded me of an eclipse of the sun. the wind felt cool. By 3pm it looked more like 5pm.

Later that afternoon the cloud did break a little allowing the sun to break through as it was setting. During the afternoon I had checked the radio for lightning static and there was an increase of static but not all that much. The lightning tracker earlier in the afternoon indicated a lightning strike just over the QLD. border. After 5pm I didn't pay much attention as to what the weather was doing.

Not long before 8pm I thought I heard low, soft and short rumbles. I went to have a look to see if there was any lightning and sure enough there was. It was around 8pm when I saw lightning to the SSW and lightning closer to the NW seemed to be displaying more regularly. At this stage I kept watch and I noticed that the storms were moving somewhat quickly. Within 10 minutes there was lightning to the SW, W and NW. Before all this I checked the lightning tracker and radar and what a sight. The tracker had strikes up into Queensland through the Gold coast and Brisbane down through this area and then veering out to see off the mid north coast. The radar had a line of storms from the Queensland border down to about Grafton then out to sea and right down the middle of the rain activity it was green and yellow surrounded by an area of blue on both sides. It indicated that we weren't going to escape it and that it was heading our way. The loop indicated the storms moving east quickly. The satellite picture indicated a band of cloud with it's clearing edge not too far away. The synoptic chart indicated the front very close to the coast.

When the storm was close I had to disconnect the computer and watch the show. To the SW I noticed what appeared to be a shelf cloud which could only be seen when there was lightning. Soon it was apon us. It was sudden and the rain was heavy. Wind seemed to come in from the west for it was a bit hard to tell for at times it seemed to come from all directions. However there was a definite gust front. I noticed that the air was warm ahead of the storm and once the wind came it was obvious that the front was apon us. Lightning and thunder was regular. I noticed what looked to be a CG but hard to say. There was nothing really close here. I didn't notice any hail but I was told there was some hail in Alstonville. By around 8:30 the storm was starting to show signs of passing however there was still activity to the NW. Any activity to the south was moving east. Soon it stopped as quickly as it came. It was still active to the east and even to the south but to the SW and west it was gone. After it had passed I checked the radar again and saw it off the coast. There was still some rain west of Lismore. I checked the radar through the weatherzone website www.weatherzone.com.au and compared both NSW and QLD images and found them to be both different. All was calm after 9pm and the next morning saw a cloud band move out to sea quickly.
---