---
This particular event was building up to be one incredible outbreak. The only problem was that it was near the east coast and there was a chance that the dry air would move through too early and storms develop over the ocean. But this did not happen.
Again referring to the avnPlotter for the AVN model variables from a couple of days earlier, it was looking that the region just north of Newcastle was going to take off. Each successive model run would confirm this as the most likely scenario. The region of best instability was concentrated in a convergence zone. And of course there was the ideal wind shear including reasonable directional wind shear. Perhaps the backing could have been a little better but all in all, this day was looking the best possibility of producing good rotation for this season thus far.
Since Shannon Symons was available, she decided she would like to chase. There were early storms rapidly moving across during the early morning period heading generally southeast. After picking Shannon up about 8:00am, we headed north towards Newcastle via the F3 freeway. We could see large cumulus developing already particularly to the west and northwest.
Just for the sake of an observation session, we headed out to Morpeth and so we popped in to say hi to Tim Crugeon who lives there. Was he able to chase? Well, he was quickly able to change the roster!! Click here for Tim Crugeon's report of this event.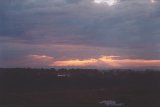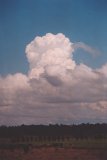 As we observed large cumulus developing we noticed the corkscrewing effect in the large cumulus itself. There was also a line of almost featureless activity that I had my eye on to the north and a cork screw large cumulus developed to the east.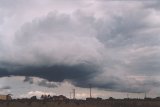 Tim suggested though that the positioning of the cumulus fields to the south were not favourable for typical development in this area. I was somewhat confused and perhaps overwhelmed by the clean crisp activity. But he was correct: the cumulus were there but seemed to not collapse after strong growth. I then realised, particularly when David Croan called that the air was drying out!! I looked further north and realised that the moisture was in this region. This was to be the turning point of the chase.
We made our way quickly to Raymond Terrace and headed north. The transition was incredible. Within half an hour, we were basically in the moisture again and it was as if the dry air was well beyond. We weren a region of convergence. There was some rain falling from the anvil as we headed through Karuah. I also noticed that the activity was organising. Finally, I could observe some decent anvil and base structure as we positioned ourselves several kilometres south of Bulahdelah.
The storm was organising rapidly and developing features at a more accelerated rate than most other severe storms I had observed in the past. And it was making a move too!!! We moved to Bulahdelah and noted a hail core developing to the southeast and northwest as well as three lowerings under their respective updraughts. The wind shear profile favoured possible rotation with any of the updraughts developing during this event. However, just through shear luck, the middle of the three lowerings in the line almost overhead showed what seemed to be a clear slot developing.
We made our move and stopped just north of Bulahdelah before the new section of the Pacific Highway. Here we noticed the clear slot had become a little more distinct and a fresh west wind developed. Above, rotation began to occur almost overhead!!! Noting the immediate danger we could have been in, I shouted, "Let's move out of here" and we raced north along the divided road section. The rotation had become rapid more than any base rotation I had observed in any of my previous chases here in Australia. This was captured on video and was later confirmed to be a funnel looking from underneath. We stopped at the nearest stopping bay and watched this incredible structure develop overhead. Lightning was scarce which I have noticed in more higher wind shear lower CAPE environments such as on the Wyong Supercell chase on the 1st September 2001.
Road options were hopeless in this region so we had to make do at parking in a picnic area. We observed more towers develop and become entrenched into the main line. You could see twisting and visible slow rotation in the updraughts.
To reassess the situation, we parked on a side road to watch the activity.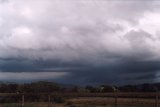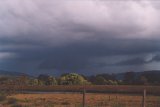 The main storms had moved further east though more congestus developed nearby. The atmosphere was drying out as the dryline moved close by. This was an interesting part of the chase. We had dry air just to our west, a southeaster developing on the southern part of the developing storm line and a north east sea breeze also pushing through. This was the first example of a triple point that immediately comes to mind since chasing here in Australia. There were some good lowerings but more a local effect.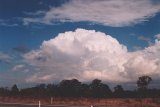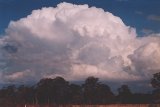 We decided to make our way to the coastline at Halliday's Point. But just outside Nabiac, one of the developing cells rapidly formed a spiraling updraught indictative of an LP (Low Precipitation) structure. There was a lowering under this structure but we had to make our way to the coast to observe its base features.
We stood in awe of the beautiful structure combined with the roll cloud that had developed. It was certainly a great way to end the chase.
This chase certainly opened my eyes in confirming the type of environments that supported rotation and also LP supercells. The dryline behaviour and structure is something that deserves future study.
If you (or someone you know) have any photographs or video of this storm or any other storm such as damage, the storm structure itself or hail, please feel free to contact Jimmy Deguara. Your contributions are very welcome. Please any photographs or video footage are important so don't discount anything.
---
Radar
From Bureau of Meteorology.
Williamtown local scale loop 0050z to 0500z 03/10/2001 (10.50am to 3.00pm local)
---