---
Introduction
Looking at the models, Geoff and I deduced that an early start was important on this day as the models were indicating instability early with the best moisture profile at that time. Wind shear was pretty good too. Checking the avnPlotter, we could see that the region around Bulahdelah was set to take off again with an excellent moisture profile particularly early. There was colder air aloft and upper level trough. I had made plans with Mario to chase but he was unable to make it.
We were on our way by 7:30am after rechecking the models. The models had decided to make the situation even more favourable for severe storms. Supercells were also possible.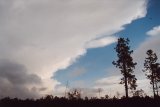 As soon as we arrived into the Central Coast region, we could see early development. And although it looked weak, it was early, and the back building activity excited us. The most important thing, which was Geoff's job, was to check the direction so we could plan an intercept path.
Instead of staying around Raymond Terrace for views, we headed up the Pacific Highway. The storm was to our north west. We stopped in a stopping bay about 10:30am and took quick shots of the side anvil which to me indicated strong pulses of severity. It was clear the storm was moving east as an overall system which I assumed was multicellular activity although individual cells were moving southeast.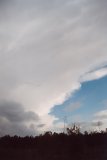 We headed north along the Buckets Way to Booral. On a side road we waited and watched the development. A lot of low cloud was evidence that there was ample moisture feeding in though it made photography and video opportunities difficult. For a short while, we thought we had totally missed the storm and gone too far north. But the sky darkened toour south and southwest about 11:30am. Geoff heard the first thunder and it was deep rumbling sound. The closer the storm approached, you could tell the storm was severe. Soon a green tinge effect could be observed and the low cloud had basically disappeared. The lightning bolts were strong and the thunder was getting louder. Soon a cell on the northern side exploded and quickly spread an anvil over the top due to the upper level wind shear. I was now weary of the increased danger of lightning stikes.
Suddenly, unprepared, I saw three lightning bolts strike simultaneously with a quick succession of thunder. I was in the vehicle quick smart.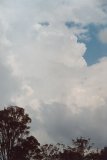 I could see that the storm was making a sharp left move with this latest explosive pulse. We decided to head north ahead of it - stopping when favourable positions arose. The storm was clearly backbuilding so we moved further north. I am unsure whether it was showing supercellular charcteristics by this time. Radar certainly looks interesting and the latest pulse was certainly impressive.
We then stopped a few kilometres north of Booral and to my surprise, I noticed the storm was not behaving the same. Backbuilding had ceased. We had to move east. There was only one road east and that was from Booral. So we headed back south hopefully to stay ahead of the storm. The sky darkened - where is the turnoff - come on. A slight spray of drizzle and light rain was followed by a loud thump. And then another. Just about 500 or so metres from the turnoff, the hail to the size of golf balls began pelting down in a thunderous roar on the car. We were trapped, no way out!!! We tried to park under cover with Geoff's quick thinking but someone got there first. All I could see was dents on my car with every loud thump. We headed out to keep ahead of the storm.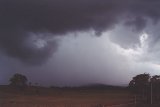 Leaves were being stripped from the trees and the wind was certainly fresh to strong. The hail persisted as we moved further east but became smaller. Some more loud thumps further probably under a developing cell and then we were out of the storm. We headed up a hill and took a quick photograph and video of the thick hail shafts. A car beeped its horn as it screamed past us warning us of the hail.
We went through the winding roads of the Devils Hills and finally in an area where we could see the storms again. There was some cold outflow whilst we were parked near the Pacific Highway turnoff. The decision was made to have lunch at Bulahdelah.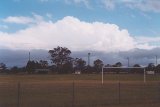 From here on, the day became less spectacular. I sent an sms to Mario to tell the Bureau of the severe storm. I forgot the number could not get through. Michael Bath was able to before he went out for his chase with Dave Ellem. Mario called me during lunch suggesting he could see the top of the storm from his place. Now southern Sydney is a fair way from the Bulahdelah area.
This chase turned out to be a tricky one. First, it was early action due to the weak cap. Second, it made a change in direction sharply and then headed generally east. It was quick thinking and a carefully stepped chase that we were able to note this sudden change in movement. It was also interesting that for once we were able to confirm and experience the hail that we had suspected - though I was a little shocked at the size. The last updraught was certainly a major pulse. Some late afternoon and evening activity made for some reasonable photographs.
If you (or someone you know) have any photographs or video of this storm or any other storm such as damage, the storm structure itself or hail, please feel free to contact Jimmy Deguara. Your contributions are very welcome. Please any photographs or video footage are important so don't discount anything.
---
Radar
From Bureau of Meteorology.
Williamtown local scale loop 0040z to 0440z 11/11/2001 (11.40pm to 3.40pm local)
---