---
I know it has become monotonous but who's complaining - dynamic systems breed supercell outbreaks. And this system was no exception. And whilst one is available to chase, such opportunities should not go astray.
Friday 21st December 2001 - eastern Hunter to border of Mid North Coast
The models were indicating some good wind shear and a reasonable moisture profile though some mid and upper level moisture was to develop later. There was some cold air aloft as well. My main target area was within close proximity to the lower Hunter. But it was crucial where the southeast change would break the cap. There was a strong low cap in Sydney though I expected the southeast change to erode the cap there.
After having to do a few choirs earlier, I headed slowly up the freeway remaining ahead of the change and watch its influence spreading northwards and inland. It eventually hit the Mangrove Mountain area before lunch. I had lunch there to be ready for any action later.
After lunch, I headed for the closest lookout possible. I noted there was some persistent cumulus congestus that was different and more promising than other congestus and altocumulus castellanus around. So I decided to head up the freeway to be in line with this development.
There were other congestus also developing in the same area and high cloud was advancing across. The southeast winds brought in moisture onto the elevated region west of Gosford in the form of low cloud so I definitely had to keep ahead of this. It looked bleak but I remained hopeful as I knew once the cap broke the atmosphere was set to literally explode.
I took the turnoff to Cessnock off the freeway. I remained in the area north of Quorrobolong. There were congestus to the west and south. The stratus was breaking up over the 300-400m escarpment near Freemans Waterhole. I took some interest in the localised congestus though.
A few drops of rain was all that came of the congestus that passed overhead. But the base of the main congestus now to the north persisted and became flatter and darker. There were some shallow glaciating activity.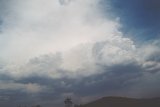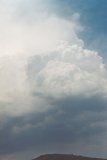 It seemed the congestus once over the escarpment began to build. I could just see a shower but not much of a buildup. Then about 1:15pm, I saw crisp towers and decided I would investigate these and keep up with them. It was a difficult decision as there were other congestus around.
By the time I got to the end of the road 1 kilometre or so, a major tower shot up on the other side and well above the shallow crisp tops. Panic set in: which way do I head. I initially headed towards the freeway but then turned around and headed back. Then stopped at Mulbring. I visually could see the tower exploding. I become numb and almost disorganised. I took a few photographs and video just to settle down. There was no hesitation - this tower was going straight up. I decided to head north towards Maitland. But it (the storm) was already making its move. I stopped 5 minutes later and took more photographs and video as the storm had gone up another level and seemed to expand somewhat.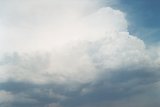 From here on, I simply played catchup - never seemed to be able to catch up with the storm. I persisted taking video though with another tower to the north exploding from the congestus similar to the original cell. These seemed to be the only thunderstorms around at this time. And they were exploding faster than most thunderstorms I had seen since chasing. It was going up so fast that precipitation was being help up somewhat with less precipitation than one would have expected. Both storms were on a line - I assumed a convergence line: northerlies or northeasterlies ahead of the southeasterlies probably meeting at or near the escarpment. I passed through Kurri Kurri and headed east.
Soon I found myself passing towards Newcastle with these beasts still ahead of me. I knew now it was a difficult job to catch them due to the road network but I would get as much footage whilst I had the chance. I headed up the Pacific Highway and passed over the Hunter River. By this time, the storm to the north had started to dominate and become more severe. It was clearly a left moving supercell form this period onwards. As I headed up the Pacific Highway through Raymond Terrace, I noticed a corkscrewing effect in the rear major tower. There was also a flanking line to the northwest of this cell merging into the main cell. It had some multicellular characteristics in its behaviour but definitely was a supercell due to its shear updraught size and the power of the updraught. Lightning bolts were quite severe and there was some very constant static despite there being only these two cells in the near vicinity.
I took the turnoff towards Williamtown and this is where I lost valuable time. Unfortuntely, there were no road favourable road options that could get me to the storm in time. So after heading down the road to Nelson Bay I U-turned and headed back to the Pacific Highway. I lost about half an hour in this move but still got some footage i the meanwhile. I knew it was a lost battle. I headed further north towards Karuah - the storm was to the east and probably off the coast by this time. The backbuilding activity to the northwest seemed to slow to keep the storm on land. I gave up this chase and turned back. I watched a massive backsheared anvil develop but missed the opportunity to video or take pictures. High cloud had quickly advanced to block my view of it anyway.
After noting that the Hunter was drying out, and Sydney and the Central Coast had storms, I headed back to Sydney for an ASWA (Australian Severe Weather Association) Christmas dinner. It was a pleasant evening and of course storm chasing was on the agenda!!!
Saturday 22nd December 2001 - Sydney to Walcha to Port Macquarie
After re checking the models, I put the target area near Walcha. There was a convergence zone anticipated as the southeast change pushed its way through. This was sufficient over the elevated region to initiate thunderstorm development despite the strong cap. There was again instability and good wind shear aloft. The lower layers were obviously affected by a southeast rather than northeast flow which meant right movers could become stronger. Again, supercells were probable.
I made my way early to the lower Hunter and took the Bucketts Way to Gloucester. I followed this up the climb to Nowendoc knowing that this was where the cloud would break. There was already signs of development along the convergence line. I made the mistake of going on to Walcha wanting to be in an area of mobile service. It turned out there was none anyway. This was a crucial mistake on this chase. You can blame it on the road network but in the end, it is the results, or lack of, that count.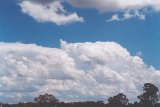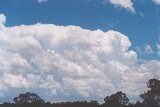 I had lunch waiting for the early development to establish itself. This time was useful in verifying where development was going to occur and which way it would move. After lunch, I headed to a place southeast of town on another route to Nowendoc. The first cell soon developed to the southwest but I was disgusted to find that the west wind was blowing and starting to freshen (drier air moving through). The storms began developing along a northwest to southeast line mostly along the escarpment and convergence line. The cells were high based suggesting the intrusion of mid-level drier air. The cells did not go too high but the moisture profile was quite ideal aloft with each cell showing crispness.
I remained in the area watching development from vantage points. This region was quite elevated with elevations of about 1200 metres common. One of the cells that had developed along the line seemed to be stronger and maintaining itself though probably marginally severe and often hidden. This cell slowly drifted downwind to my southeast. Time was running out so I decided to make a move to Nowendoc - I thought you have got to be kidding - gravel road!!! I was cursing at this stage but U-turned headed back north aimed for the Oxley Highway. I stopped though and to my amazement, the cell that had been drifting through had finally exploded and was showing supercellular characteristics in its updraught. I knew that was out of my chaseable area but I still headed to the Oxley Highway and southeast just to get a little closer. What was going in my mind was the word "Bust". And I knew that the 65km winding road was not going to comfort me.
It was passed 3pm at this stage and cells were taking off to the east and northeast as well, but definitely not what I would call an explosive atmosphere. But the storm to the southeast, now a right mover, was the larger storm. Whilst it moved southeast, it revealed another storm further south in the Hunter, also most probable a supercell (certainly some steep rear updraughts).
I continued on towards the escarpment region 50 kilometres or so west of Port Macquarie. The moisture was certainly evident with low cloud and I could even feel the rapid change in humidity. I was tossing whether to stay in this region outside of the low cloud or to go under the cloud and risk missing the main action due to lack of visibility. The dreaded stratocumulus certainly was there though I could pick up regular static from obvious cells nearby. But where?
Finally I arrived at Warchope and received a rare update to see more if it was worth staying around or head home. I decided to head home. Well.. that was the initial plan!!! As I rounded an elevated bend, a glimpse of structure caught my eye in the rear vision mirror. It was the base with sunlight shining through - not spectacular but something.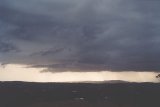 I parked near this bend and watched a base slowly approach. It certainly did not look spectacular but the overall movement in the base was counterclockwise, not a real surprise considering the southeast winds in the lower layers. After some time watching this, I decided to again head home (why was I in a hurry to get home when I had planned to come here for a few days).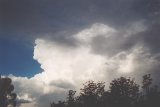 No sooner than I was heading south along the Pacific Highway did the some break through after a some brief rain. There was much more rain than I anticipated reflecting the sun. And then the flanking line was revealed. I had to stop for a picture. It was quite an interesting structure and more than what I was expecting from the previous base activity. And no wonder - the storm was looking nicer as I made my way down.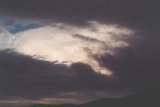 Now there was another reason why I was heading south: another storm to the southwest. There was a brief period where I could not stop but nice back sheared structure was observed - certainly a severe storm structure. (It most likely was responsible for the damage near Comboyne). As I neared Kew, I was amazed to find the storm I was previously observing had become a massive cell with major updraught and definitely severe. Whilst still attempting to position myself in an ideal location near Kew (fat chance), I also observed a smaller cell simply explode into a major updraught with slight back shear against the strong upper level jet. It merged with the other cell. This was it, time to head back to Port Macquarie.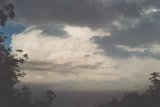 It was now passed 6:30pm and yet another updraught exploded on the southern side of this cell - boy do I like the crispness of updraughts that find it difficult to glaciate due to the fast updraught velocities! I was also getting glimpses of another cell on the northern side of this system of cells.
I finally realised that heading to Port Macquarie was a mistake or perhaps other areas also got low cloud. This low cloud hid the main earlier storm from view and also covered most of the base features. Nevertheless, I capitalised on this opportunity to photograph and film storms over the ocean with the sunset reflection.
I was hoping for a lightning show, but the low cloud and high wind shear carrying the storms rapidly out to sea spoilt any opportunities. Well I had to be content, this could have been one of the few busts in recent years.....
23rd December 2001 - Comboyne
What I can say about this phase of the chase was that it was almost an ideal situation. It was also somewhat of an accident to be in Comboyne. Instead of waiting for the storms to develop all afternoon, I would head out to Comboyne to observe the damage from the previous day's storms. After all, this part of the coast was still likely to get storms and the wind shear was excellent - very dynamic. The lower level wind shear was also ideal. Instability was not predicted to be the best but I knew that there was a chance with the convergence over the ranges.
Well I arrived at Comboyne and was surprised at the elevation. It reminded me of Dorrigo, perhaps a little lower (400 to 500m whereas Dorrigo is 762m) but still very similar characteristics - undulating cattle grazing land with rainforest on the slopes. I found a vantage point and watched for any early development. I deduced that this was an ideal area for thunderstorm passage. Oh and by the way, I did see some damage but most of the extensive damage was further a field.
If you (or someone you know) have any photographs or video of this storm or any other storm such as damage, the storm structure itself or hail, please feel free to contact Jimmy Deguara. Your contributions are very welcome. Please any photographs or video footage are important so don't discount anything.
---