After last year's successful United States storm chasing mission, it was inevitable that we would go back in 2002. Unfortunately, David's work commitments totally ruled out a trip this year. I had to search for another team mate. Mal Ninnes was in an ideal situation and would have been able to chase but unfortunately he fell through. Then a desparate search and Matthew Piper became the candidate. He was to go on his first trip to Tornado Alley. Obviously he was over the moon!!! I was more relieved that I was going though still excited. I could be accused of being selective but actually I found this quite frustrating, as after our trip last year, it seemed there were several candidates that had planned to go in 2002. They were going to team up and we could go around as a convoy. I suppose situations change.
Preparations were under way immediately. We needed maps, county maps and as many helpful resources we could get our hands on. Matthew had a radio scanner which he programmed ready to receive the NOAA radio frequencies. We wanted to be more prepared than last year's trip. This time we knew what to expect and had planned for it. We had also booked our aeroplane seating plan perfectly for the long trip.
With the ASWA (Australian Severe Weather Association) pre-meeting came the usual expectations of tornadoes. But as any chaser knows, you never know until you chase what is to be expected. I thought this year's dry line behaviour meant a good season would be expected. After all, even in the late April and early May period, tornadoes were being reported. Day after day, there were outbreaks. I was in training making forecasts and cyber chasing my targets but drooling as I watched the supercells explode on the 0.5km resolution visible satellite imagery. But with such an active period, I knew it had to end sometime and it did, as soon as we arrived!
We arrived in Dallas on Friday 10th May tired and dreary in the typically oppressive sultry Texas conditions with capped cumulus; similar to last year's arrival. Ted Best (our host from last year) greeted us at the airport and was as excited as we were to meet him. He told us of the possibility of severe storms in southwest Kansas. He was astonished (probably concerned) to find out we had already planned to chase there the next day. We arrived at Plano to meet up with Kim and Ana. Yes, time to check the models - it didn't look too exciting. Was the 7 hour trip worthwhile to chase? Matthew wanted to see storms and all revved to go!!! No tiwsting of my arms to go chasing. Check it the next morning for the final decision. It wasn't long before we crashed out due to exhaustion of not sleeping the whole trip on the plane.
Saturday 11th May 2002 - Kingman Mesocyclone, Kansas
No mucking around - check the models yet again. Wow!!! The models were pin-poinitng the same general area in southwest central Kansas but it was more likely that tornadoes could be expected near the cold front and dryline intersection. There was a reasonable windshear profile sufficient for tornadic supercells. Lower level winds were depicted to be more favourable with a south southeasterly component. Unfortunately, we were not able to hire a car until nearer to midday. I knew then it would be virtually impossible to be in position in time. Nevertheless, we left for our first trip - destination southern Kansas and then from there, we would decide where to head west.
After a fuel stop, we were in southern Kansas about 5:00pm. The haze was incredible decreasing visibility with high dew points and quite fresh southerly winds. It was difficult to pin-point the source of the lightning static. One thing for sure, it was becoming frequent meaning that we were approaching the developing storms and they were becoming widespread and perhaps more intense.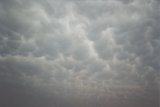 It wasn't until we passed Wichita that we saw a major anvil with impressive mammatus. It looked immediately like tail end charlie and had been active for some time but which way was it headed? We continued further north to find our planned turn-off was blocked. So we had to head further north and turned towards McPherson.
Just west of McPherson, we stopped to view, photograph and film the convergence line. Some storms were already under severe warnings. The cells were moving northeast along the convergence line under the influence of the steering winds. We were not far away from the southern end of the system. A woman stopped to ask for directions and then told us of tornadoes already reported near Great Bend about 100km to our west. Storms were more impressive and definitely more active to our southwest so we headed south southwest but remained ahead of the line.
We passed through Hutchinson yet remained in the anvil rain. So making our way further south, the rain suddenly stopped just before the turnoff to Kingman. We were now within range of the tornado warning on Kingman County. At one stage as we approached the southern part of the storm, Matt heard of the warning of this storm able to produce a large tornado at any time. It was a definite right moving supercell (which normally are the stronger cells in the northern hemisphere cases).
It was approaching evening though there was still sufficient light. Yet the base was not visible when we turned right on the road west to Kingman. There were spotters in position watching the supercell approach. Finally, a lowered base came into view directly related to the mesocyclone. I pointed it out to Matt. It was situated (probably half a kilometre) just north of Kingman when we arrived in town (arriving about 8pm). There was an incredible inflow band stretching in from the east with a thick arm where it connected to the mesocyclone. Fresh southeast winds raced into the mesocyclone even from a close distance. Persistent lightning flashes occurred with the parent storm. I know we had missed the earlier tornadoes but we were glad to at least make this storm.
The mesocyclone and associated wall cloud exhibited signs of rotation and produced a funnel on the side of the rotation. The car remained on the whole time as this was a serious situation. If a tornado had to develop rapidly, it would be within a kilometre of our position. A little later, what seemed to be a second mesocyclone adjacent to this main one also produced a probable funnel. Cool outflow winds then descended towards us and we moved a little further east. The storm began to retreat futher east northeast from the road. I knew the storm was in a weakening phase. This was confirmed when the tornado warning was allowed to expire.
We called it quits and headed south to Wellington where we stayed the night. Matt and I enjoyed the lightning show as another set of storms approached with hail warnings.
The next day, we awoke in cold cloudy conditions within the post frontal air. We decided to head south ahead of the cold frontal zone. Passing through most of Oklahoma, we finally hit the front north of Ardmore. Although this was not an impressive day chasing wise, we were impressed by the sudden fogging up of the windscreen!!! Nothing but cloudy conditions persisted and prevented outbreak conditions from occurring. Our target area was southern Oklahoma for the afternoon period but there was just too much cloud. Storms did develop along the front and within the post frontal air and hail was reported on storms to our north. We headed back to Dallas. Storms fired in central Texas but weakened before hitting Dallas.
Wednesday 15th May 2002 - gustnado fest Greensburg, Kansas
Northern Oklahoma to southwest Kansas were the targets but this time we had more time to get there!!! It was a similar setup to the chase on the 11th May with a cold front expected to slowly penetrate south and with a reasonable windshear profile sufficient for supercells. The difference was the moisture had not returned in abundance. This meant we could expect higher cloud bases and microburst/downburst conditions.
We arrived in Woodward via Oklahoma City-Clinton route by early afternoon and checked the latest situation. We were not impressed by the lack of moisture. There were high based storms in southwestern Oklahoma. We were in sunshine. The dryline was to the west and extended into southwestern Kansas. We targeted the region east of Dodge City and made our move north.
As we headed north, congesting cumulus developed along the dryline to our west. An anvil spread across from the west and seemed to overshadow some of these congesting, towering cumulus. We arrived in Kinsley about 5pm and parked out of town for a while. The anvil quickly covered the sky. No stratus feeding into the system and therefore high-based precipitation became more persistent to the northwest and west. We headed to the southwest side of town and noted a severe thunderstorm warning on this major storm near Dodge City.
The main concern of the warning was severe wind gusts. It looked as though the storm was on the intersection of the dryline and cold front region. Anvil crawler and occasional cloud to ground lightning were observed. Despite the storm moving northeast according to the warnings, it was obvious that the southern part of the anvil and storm system would maintain an easterly component. After some time, we decided to locate further south. Winds were fresh out of the southeast. No problems with windshear; just the moisture.
Finally we located south of Greensburg. The road network did not provide good choices except for gravel roads. The best road option really was the road east of Greensburg. The storms were slowly gathering moisture as it headed further east and base features improved. A shelf cloud and gust front developed. The storm was approaching at a reasonable pace and knowing that we would be facing some fierce straight line winds, we headed further north to the turnoff east to Greensburg. Areas of raised dust were observed and then I looked over to my right and saw what appeared to be dense dust. A better look and I could see rotation. Wow!!! The strong outflow was interacting with the southeast inflow.
Heading east, it was now obvious that there were more gustnado spinups occurring along the inflow and outflow boundary. It turned out to be a gustnado fest with several spin-ups - some more impressive than others. Dust was being blown across the road though most spinups were to our south. Even though the dounbursts were strong, the boundary was moving much slower making it easy to keep up. Chaser vehicles joined from all over and you'd thought you were alone whilst there was no action. We headed south on one occasion for a close-up look but again retreated to the road. Heading further east, we made our way through Pratt and took a detour south of town. This was all great chasing country. A more impressive shelf cloud and gust front had developed with the storm. We gradually zig-zagged our way to Kingman. The storm had moved northeastwards revealing the rest of the activity. I noted the rear flank downdraught of one of the cells to the far northwest. With southeast winds spreading inland, this storm would take off. Once booked in, we checked the Weather Channel but also noted from the NOAA radio that this storm had hail and a tornado warning on it. We observed some inconsistent lightning activity including anvil crawlers. The storm had weakened not longer after passing the Pratt region. We called it a night.
Thursday 16th May 2002 - Sculptured supercell and impressive lightning show, near Canadian and Wheeler, Texas panhandle
This was an unusual setup: it didn't look too ideal in terms of upper level dynamics. But it was still expected to fire as an upper level trough moved across the Panhandle. Needless to say, it was a complicated with the central and eastern Oklahoma region a target because of the upper level jet maxima and more than sufficient moisture and instabilty; the Texas and Oklahoma Panhandles made up the other target with deep layer wind shear and sufficient moisture returning. We decided the best action was head south and make the decision there as the events unfolded.
We could see cumulus to the east and south extending inland towards the eastern Oklahoma Panhandle. This was evidence of sufficient moisture returning. We arrived in Alva only to meet other chasers studying the library terminals. John Moore introduced me to his team of chasers and also a couple of other chasers introduced themselves. We remained there a while waiting for activity to develop. Finally, we checked the radar and noticed some cells had taken off in New Mexico. Although they had relatively weak echos, it was reasonable to assume that they would feed on the moisture return as they entered further into the panhandles. A mesoscale discussion was already prepared by the Storm Prediction Center for both targets. CAPE calculations of 5000 were attractive (to the east and southeast) but I still favoured the Panhandle.
We left at the same time as the Kansas chasers and made our move. "Oh Damn, forgot to top up fuel". Nevertheless, we made our way west towards the Panhandle. I knew it was getting low and risky in this region so I had to fuel up at the same time losing the other party. In order to not let them think I desserted them, I decided to go a little faster to catch up. After all, this is Panhandle country. Well...such a great idea that was!! Over the hill came an Oklahoma state trooper vehicle and lights went off. Thank God it turned out to be a warning.
I could see the funny side though... I had lost more time being pulled over than I could have ever gained going after the others.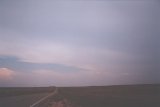 I think he had suspected the car may have been stolen since the car was relativley new with no number plates and just a sticker on the rear window.
The anvil came into view not long after. We continued on towards the turnoff before Forgan. We turned south towards Beaver en route to Canadian. Another storm probably in southwestern Oklahoma or northern Texas exhibited strong updraught explosive pulses.
The storm to the west had not revealed its base yet its anvil was spreading rapidly across the sky eventually to extend to the other horizon to the east!!! This was a strong system. We began to feel the effects of easterly inflow the further we headed south. I thought we would never make the southern side of the anvil but as we neared Canadian, we felt we had made relative progress. This meant the storm was headed more east rather than straight southeast. We stopped at a vantage point north of Canadian.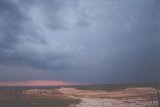 The base of the western storm finally came into view and it was also evident that the anvil was from two storm complexes. One was in the Oklahoma Panhandle region and another to our west. But that easterly inflow racing into the storm from such a distance was nothing short of incredible. And there was a line of congestus to the south just under the anvil. One cell grew into the anvil followed by another - the development extending westwards. This growth was very rapid and even though it was not dark, in cloud lightning was observed and became frequent. However, it was the inflow into the base in the form of a cow catcher that caught my attention. We decided to head down south of Canadian to get a better view.
What a site!!! The short drive turned suspense to amazement!! This LP (Low Precipitation) supercell had striations and a rounded appearance on the front. Lightning illuminated the rain-free base. There was fresh to strong inflow into the storm even from so close. This was simply awesome!! Matt and I video taped its structure and lightning activity. But there's more. Another region of inflow could be seen to the west with the main storm. This storm was just an appetiser before the main beast hit later. I could tell we were in for a long night. The storm now had developed even more distinct LP supercell features and was clearly rotating even though it was twilight. Then a lowering descended but we could not see any funnels or spinups. Gradually this storm began to lose some of its impressive features or perhaps because it moved slowly east of Canadian. Around about 9:30 -10pm, our attention turned to the main beast. The more it approached, it exhibited a lightning lit shelf cloud and gust front structure. Powerful inflow ripped into the storm and it was approaching us rapidly. We made a move further south towards Wheeler. I could feel the car being pushed by strong bursts towards the storm so much so I thought it may have been outflow at one stage. Warnings for significant hail were on this storm. Finally, we were in a safe position to stop. Other chasers from a chaser tour group joined us and another group from Ball State University. Lightning was frequent but mostly cloud to cloud flashes illuminating the striated shelf cloud structure. There was a dense hail shaft visible that probably contained the giant hail that was reported from this storm (hail to the size of grape fruits were apparently reported - 4.5 inches or about 11 - 12cm in diameter). Another major complex to the north also produced similar sized hail near Guymon.
The night was not over yet. After booking a motel about 10:30pm, we headed east to move with this major supercell. Lightning bolts strobed the countryside at unpredictable regularity. Lightning activity increased from our west and just as we left to take cover back at Wheeler, strong outflow winds and rain hit from another approaching storm. We made it to Wheeler to the sounds of small hail on the roof and vehicle. We then witnessed one of the most impressive transformations!! The storm headed slowly east to reveal an incredible electrically active lightning display. We stood there in awe and almost stunned at this spectacle!! Lightning bolts between cloud tops and other cells were observed, sometimes very frequent. I was filming directly overhead at some stages and even with zoom set at the widest angle, it was not possible to fit in all lightning flurries. Words simply could not describe it. And the colour!!! It varied between a pinkish tinge then suddenly turning a bluish colouring. This was observed an at least 3 occasions during the night as cells developed within the MCS. And this would last for about an hour before the main system moved further east. As the storm system moved away, I observed bolts coming out of cumulonimbus and from the anvil to the cumulonimbus. Quite impressive and which indicated what we had been observing whilst overhead.
After another trip along the road outside Wheeler for more lightning shots (couldn't resist), we called it a night. It was now 1:30am and one could have kept on following the system east!!! Yes of course, we were awoken about 3am by another storm that had developed further northwest (nothing unusual for these areas). The strong winds made it a little uncomfortable there for a while - but we were too tired to worry.
The next day, we headed back to Dallas.
---
Chase in Tornado Alley 2002 - Special Report: Episode 2
Chase in Tornado Alley 2002 - Special Report: Episode 3
Chase in Tornado Alley 2002 - Special Report: Episode 4
---