---
Video clip by Jimmy Deguara of supercell base rotation and rainwrapping around [50 seconds - 0.99mb WMV]
This day was definitely teasing for severe weather and a chase was in order.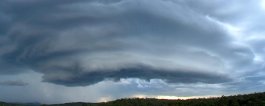 The windshear profile of this outbreak was reasonably impressive. The cut off low was projecting a northwest jet at 40-45knots at 300hpa, 30knots at 500hPa and about 25knots at 700. It was the lower level wind shear combined with instability that set the scene for possible supercell storms. In general, the storms were going to move generally southeast and east to even northeast if left movers. Combined with approaching cold air aloft (temperatures down to -13C on the mid-north coast) and warm conditions in the lower layers, a good moisture profile, supercells were likely to produce at least large hailstones as well as the usual strong winds. Initiation would occur along the trough which was expected to be located in the target area. The cap was sufficient in suppressing the best activity for the afternoon period.
The problem was, were do I situate myself. There were a few scenarios that I considered though the road network was not ideal for chasing. So as David Croan had also suggested, I targeted the region near Bulahdelah.
The trip up was easy though the waiting game as per usual became testing. There was no doubt in my mind storms would develop but I had hoped that storms would develop earlier to make use of better wind shear. The storms did develop along the main convergence line of the trough. Nothing substantial developed and persisted beyond this main line.
By mid-afternoon, I could see one particular large cell to the south that had developed a strong updraught. But it lost its impressive structure rather quickly. Moving west allowed for some better views of the storms particularly form one vantage point. But still, the storm features were not showing. It seemed like an eternity - time was slipping by and I had to move soon. There were a few options so moving too soon could put me in an unfavourable position. So I maintained position.
A cell had developed strong features near the coast towards the south. This I found out may have been the cell that produced damaging hail on the Central Coast areas. Updraughts were also beginning to show within the line and did not look very impressive at all. Until I concentrated on one updraught. It showed good structure and had rapid updraughts. It looked to becoming severe and organised. Static had increased and now I could hear thunder - definitely from this cell. The odd lightning flash could be observed.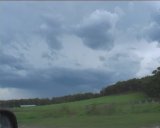 There was an interim of about 10 minutes where I was undecided: do I head north to another advancing storm - or this cell I was observing. Checking its bearing with respect to my position - south, I noted the road would put me within chasing territory!! The chase was on!
Admittedly, despite the storm having severe weather features, it was not overwhelmingly impressive. The first cell in this series of two cells had continued on. There was no way of catching it since it was moving in areas with Williamtown in its path. But the second cell began? It seemed to be intensifying as I moved towards the Pacific Highway along Bucketts Way. In fact, a curved rainfree base began to develop. I was astonished by the rate this development and changing structure occurred whilst on the Pacific Highway. This rainfree base had anchored itself!!! I finally realised that it had changed its motion - left moving.
Parked on a side road, this rainfree base soon developed circular structure that to me looked like a base of a mesocyclone. It was definitely reacting to the deep layer inflow from the north. I could even see some overall turning particularly along the front inflow region. And it was lowering. With this circular base maintaining I thought it was time to move north.
Although briefly locating just to the north near the rain free circular base, I finally moved towards Karuah. The anvil was simply impressive crisp and solid - well the whole storm had become severe and well structured. Mammatus on the front of the anvil and glimpses of the base!! I could not get ahead fast enough.
Finally at Karuah, an awesome striated structure was revealed. What an amazing site: one could just sit back and enjoy this awesome piece of atmospheric achitecture!

Tempting.... though I simply set up the tripod and video, and taking photographs - well not before I had taken a pan of the entire striated base. And there was this hollow region - was it rotating? It was hard to believe at first so I simply filmed it whilst I rushed to get the camera. Then I realised this base region of the mesocyclone had some drier air trying to intrude into what looked like a clear slot whilst inflow was still feeding from the north. And the precipitation curtain was being dragged around into a hook!!!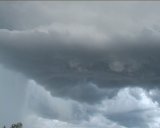 I looked for funnels but nothing of significance eventuated. It was however the most visible rotation I had observed from such a close distance in Australia on my chases. The visible rotation seemed to close in but timelapse does show rotation persisted and shifted forward. Certainly not uncommon behaviour. Usually the most dominant region of rotation can eventually drops tornadoes. I watched and filmed various aspects of this beautiful base structure and observed the now persistent lightning flashing within the core for about 10 minutes. Finally time to move. Ready to turn back onto the highway - flash!!! A lightning bolt from the base. Thunder followed. I suppose bad timing.
Up the road - roadworks. Large drops began to pelt the vehicle. The striated base was almost overhead. The storm was not fast moving though and it was clear the main core would remain on the eastern side of the highway. This region was frustrating for chasing - too many trees.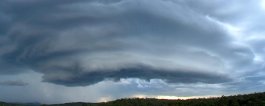 But I did eventually find an excellent viewing point. I simply stood in awe as I set up the tripod. Aarrgh!!!! Another lightning bolt from the base. Had not set up in time. After panning the whole base I setup for more timelapse whilst taking photographs. Amazing to think just how quickly this chase had changed.The storm went through some interesting transformations particularly nearer the mesocyclone region.
The storm was still rather active lightning wise though it seemed the base region although remaining rain free was becoming slightly linear. So with the storm moving further towards the east of the highway, I was on the road again - north to intercept another storm.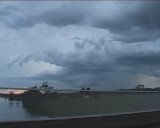 Even about half an hour later, the storm was still going as I approached Bulahdelah - obviously still structured but smaller.
Trees inhibited my view until just before Bulahdelah, a curved shelf cloud appeared. With inflow cloud directed on the northern side, this storm exhibited HP supercell characteristics. The environment was more favourable for HP supercell development - higher CAPE (Convective Available Potential Energy) and less windshear. Soon I realised with better views that the storm was well north.
With light fading and storms moving northeast the best I could do is head north along the Pacific Highway for the best possible structure. Besides some glimpses of structure, it was not until Taree did I get the last opportunity in the failing light to observe some structure of the northern end. It was less organised though and I could see the storm was very linear; squall line evolution had taken place.
I had targetted this region for chasing the next day so I headed north. Port Macquarie was in the line of this squall line when I arrived. The reason I stopped was because I feared a major accident had occurred based on the emergency vehicle activity heading north. The night was spent reflecting on the days events as well as watching and filming the flickering lightning show. Well it produced few bolts or anvil crawlers though it was fairly persistent activity.

The following day revealed some nice photograph and video opportunities but nothing specifically impressive structure wise. I have included some stills and timelapse of this event as well.
Video clip by Jimmy Deguara of storm development timelapse [1:21 minutes - 3.68mb WMV]
Click here for all stills listed online of this event.
If you (or someone you know) have any photographs or video of this event or any other type of severe storm such as damage, the storm structure itself or hail, please feel free to contact Jimmy Deguara. Your contributions are very welcome. Please any photographs or video footage are important so don't discount anything.
---
Radar
From Bureau of Meteorology.
Williamtown 256km scale loop 0510z to 0800z 20/03/2003 (4.10am to 7.00pm local)
---
Satellite Images
From TWC Weatherzone
20th March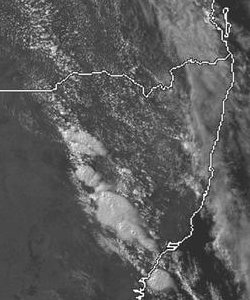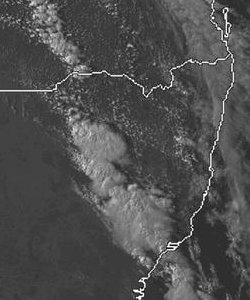 ---
Analysis Chart
From Bureau of Meteorology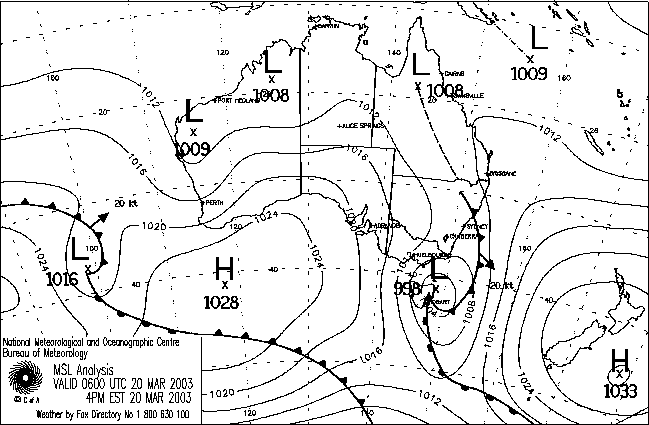 ---
AVN Model Analysis
From NOAA 20/03/2003 06z analysis run
Winds (knots) 300 hPa
---