---
Storms formed locally in the Northern Rivers during the previous evening, ahead of a weak SE wind change, with one storm forming NW of Grafton and very slowly tracking NE towards Ballina and maintaining a red core on radar for nearly the whole time. A severe thunderstorm advice was issued, however when Michael Bath and myself went out chasing, the cell visually appeared weak. Lightning was very infrequent and we intercepted the N side of the cell at Ballina, experiencing very heavy rain.
Instability was very coastal on the Friday, with LIs and Cape appearing to reach maximum just off the coast of Coffs Harbour at 09z (7.00pm local). Dry air was slowly encroaching on the coast and was likely to dry things out completely after lunch. During the morning there was plenty of moisture in the atmosphere, with some mid and high level cloud, however the sun still managed to get through this and temperatures still climbed quite high. Weak storm development commenced in the Northern Rivers around 12 noon.
Michael Bath and I headed off around 1pm towards the Evans Head area. Tiny cells, but still with red cores, had developed N and NW of Grafton and were heading generally SE. The drive down was slightly discouraging, revealing high based and low topped cells that looked very moisture starved. Once some weak convection nearby cleared, it revealed stronger cells sitting just off the coast. We stopped quickly at Woodburn to photograph the back of one cell before continuing towards Evans Head.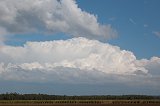 This cell weakened quickly, however we decided to find a lookout at Evans Head that would show us what was going on further south. We drove to the top of a hill that had a large water tower on it and caught sight of what appeared to be a very strong corkscrew updraft to our south! However a hill S of us was obscuring its base. We quickly realised this lookout was no good, so we dashed south a bit more to another possible lookout point, but we again encountered the same problem. We still took a few photos and time lapse of the cell which could later tell us if there was rotation.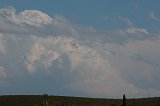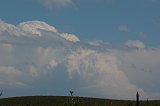 About 10 minutes later we headed back to the original lookout on the hill, as Michael thought that if we followed a small track through the sand dunes to a higher point on the hill we'd have a good view. When we arrived we very quickly grabbed all our gear in our hands and began storm chasing on foot!! We ran and ran and ran down a track through thick coastal scrub. Running through sand with two cameras and two tripods on you isn't exactly easy. We found a small clearing to stop at and take some more video - we could now see the base and could make out what appeared to be a small cow catcher formation - but it quickly lost its definition.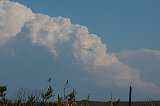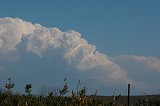 A radar update from Anthony Cornelius revealed that cell had veered ENE and was in fact getting closer which was exciting! We packed up the gear and continued the trek through the bush to get to the better lookout spot. We eventually made it up the hill and had a perfect view of activity to our south. There appeared to be 3 cells along the coast - the furthest we could see was probably near Port Macquarie! The closest cell to us, which was probably a supercell or very close to being one, began to weaken, however the next cell S of it continued to explode.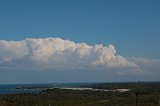 We enjoyed watching the cells, taking photos and recording time lapse for over an hour. The cell further south of us just exploded with solid vertical updrafts that were so crisp! It was responsible for producing golf ball hail just on the coastal fringe before it moved offshore.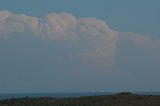 Michael went around the hill to see what was going on to our north. There was no interesting storm activity, but he managed to find himself a 2 metre brown snake lying on the track. It quickly shot away, but I was paranoid at every movement in the scrub after that!!!! After watching for a while and giving up on some Cjs nearby which weren't developing due to the dry air pushing through, we headed back home.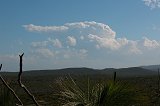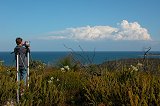 The chase was finished enjoyably listening to Matthew Hayden receive the highest score in test match cricket on the radio!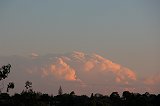 But the day wasn't over yet. In the back of my mind I had wondered about storms forming near Coffs Harbour around 7pm and giving a light show when cape reached a maximum of over 1000 j/kg. At around 7pm I heard my dad yell from outside "come check this storm out". I went outside and was greeted to near constant lightning from a cell just NE of Coffs. It was spitting out heaps of CCs and CAs and the occasional CG. After taking some photos I was keen to head south and try and get closer to it, as it was getting stronger on radar and heading NE. By 7.30pm Michael Bath, my Dad and myself were on our way to Broadwater. We watched the lightning from the storm from a lookout at the Broadwater National Park for over an hour, enjoying the frequent flashes from the now massive storm system. It was too distant to get any really clear photos though, but a nearly full moon illuminated the cells enough to get some structure shots. We headed home around 9pm.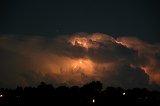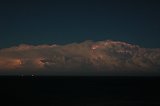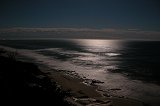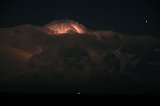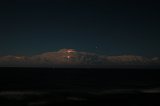 ---
Video Clips
Video footage taken at Evans Head by Dave Ellem: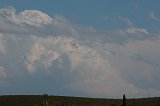 Timelapse sequence 1 [1.7mb]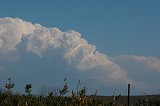 Timelapse sequence 2 [1.1mb]
---
Radar
From Bureau of Meteorology.
Grafton local scale loop 0000z to 1100z 10/10/2003 (10am to 9pm local)
---
Satellite Images
9.55am MODIS 250m resolution image
MODIS image at 1.45pm local: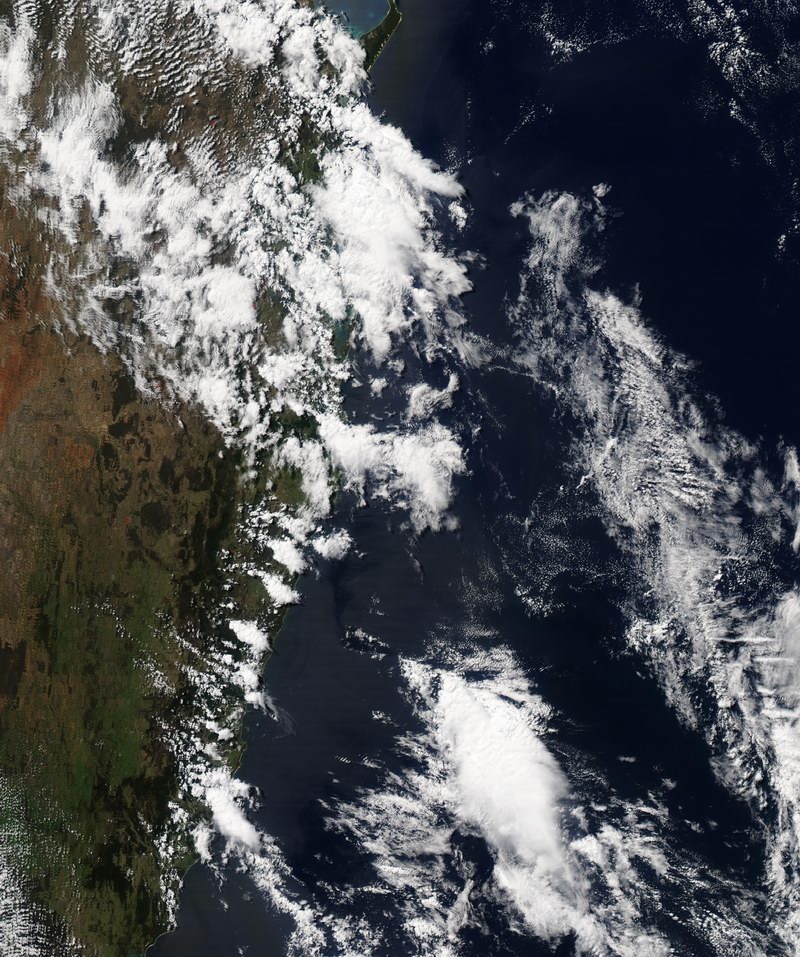 ---
Analysis Chart
From Bureau of Meteorology.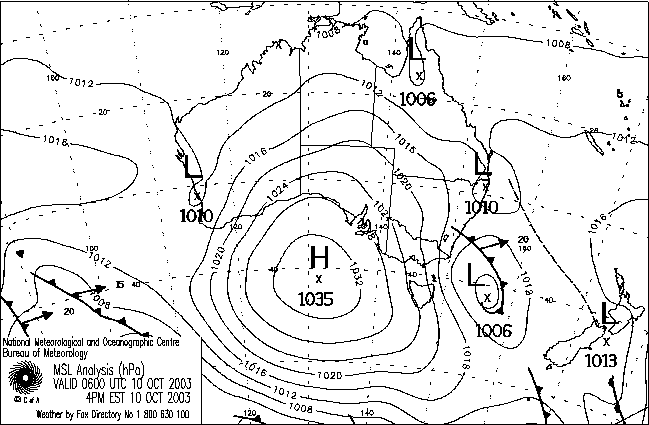 ---
AVN Model Analysis
From NOAA 10/10/2003 06z analysis run
Winds (knots) 300 hPa
Report compiled by Dave Ellem and Michael Bath
---