---
Well storms were on the card once again today, if we hadn't had enough already! A number of troughs were responsible for a very unstable atmosphere. AVN was suggesting -8 LIs and Cape over 2000 in the Northern Rivers which is what I like to see on the big hail events. There was plenty of moisture throughout the atmosphere, if not too much, with the air drying out a bit above 500, but still relatively moist. Shear was fairly slack, with storms expected to move slowly in a generally SE direction, but the weak shear would mean they could head any number of directions!
The morning was sunny and quite humid with plenty of cumulus around. By around 12pm storms were firing along the Northern Tablelands - so many it was looking quite cluttered. A severe thunderstorm advice was issued at 12.12pm for the area as storms continued to develop, although they were remaining almost stationary on the Tablelands. It wasn't until after 1pm that cells began to develop NW of Kyogle and NW of Byron Bay. The two cells that developed in these areas developed very quickly and were fairly high topped. What was quite annoying though was a solid SE wind had pushed through the area and created a heap of mucky low cloud that blocked base features on cells. By 1.30pm the cells nearby had put out large anvils with some mammatus and were giving off regular thunder.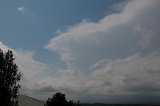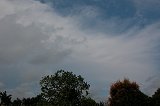 With the cell NW of Byron appearing to be back building, attention turned to the cell NW of Kyogle, which was slowly advancing towards the area west of Casino. After finding out Michael Bath was unable to chase I decided to head out the door and try and intercept the cell. By the time I got to just west of Casino the sky to the WNW was very dark, with frequent pulsating CGs occurring in both the precipitation area and ahead of the storm in clear air. It was exciting seeing so many CGs and listening to the loud thunder on a gravel road just outside of Casino, but I was disappointed at the lack of structure and that I didn't have my video camera with me to video the impressive CGs! The dark rain curtain, frequent lightning and green tinge had me convinced this cell would contain hail, and from my obs it was heading south, so I continued on the road that heads WSW out of Casino.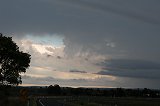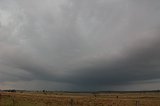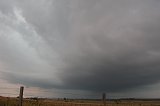 Whilst heading out I got an update from Anthony Cornelius who informed me there was a very large red core WSW of Casino heading SSE and that golfball hail had been reported from Tabulum. He coaxed me into heading into the storm to see what it would produce, however I decided I'd venture in cautiously and if hail started to get to large I'd bail out of there! And the now very frequent close CGs had me excited!!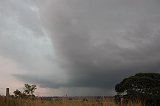 I hadn't realized at the time, but I intercepted a cell slightly NW of the large one that gave the big hail at Tabulum, and at around 3.20pm I entered the cell. Very heavy precipitation began with some flangs hitting the paddocks surrounding the roads. It was a little daunting! Soon after heading into the rain small hail commenced, but not a huge amount of it. I stopped to watch the hail but it stopped quickly and I was left with heavy rain. I ventured further down the road and got some more hail, now around 2cm with a few 3cm stones. There was a good amount of it too! Sounded great on the car roof, and the constant loud thunder really added to it all! Again it eased off so I ventured further west. Suddenly it ceased and it was just extremely heavy rain - hard to see too far in front, so I slowed down a bit. Then there was a really loud smack on the windscreen!!! It gave me a real shock - a 3cm to 3.5cm stone I would estimate. Then it unleashed - torrents of 2cm to 3cm hail started smacking into the car!! I kept driving with it this time for a little while until deciding to stop as I didn't want to get the car dented now that the hail was getting a bit larger. The road now had a decent covering of hail and had begun to take on a white appearance. I took a bit of video on my camera, but it eased off about 5 seconds after I started taking video! Not to worry, I was pretty happy!!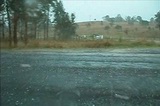 Click for video of hail - 1.2mb (WMV)
It then turned to heavy rain and that was it. I continued further west, with some CGs still occurring, but not as close as before. I headed towards Tabulum to see if I could find large hail, and also to get some photos of the rear of the cell. However I did not find any hail the entire way, and decided to stop just east of Tabulum and head back as it was getting later and low cloud had ruined the view of the cells on the ranges nearby.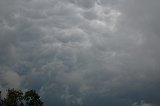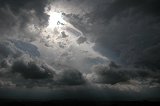 I came back to Casino, enjoying some CCs and CGs, as well as some awesome mammatus overhead. The lightning frequency had certainly backed off though.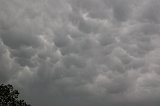 I decided to meet up with Michael Bath at Parrots Nest and on the way saw a massive CG hit in the distance. A few seconds later I got an SMS from Michael saying "that was so close". It had hit about 500m away from him at Parrots Nest!! We soon met up and got another radar update from Anthony, but with a stack of cloud around and drizzle over us we decided to head home. I came back home and watched the action from my verandah, with a few nice CCs occurring with some deep rumbles! A slightly disappointing chase as I missed the big cell and the storms weren't photogenic, but the hail and CGs sure made up for that!
---
Radar
From Bureau of Meteorology.