---
This day may have evolved into a local chase but it turned out into an extraordinary event. With moderate wind shear and high CAPE environment, it was anticipated that storms would develop over the ranges and drift towards the coast. The atmosphere was a little moist further north though higher CAPE and storms would develop earlier. It was a test of patience, when does one take off and chase.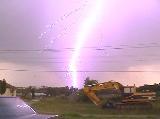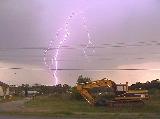 You guessed it ­ storms did develop further north along and near the Mid- North Coast . And then the Central West south of Bathurst fired also. You required nerves of steel to wait patiently ­ should I leave now. A storm developed to the south and passed near Campbelltown. Some good inflow into this event and a warning out for it including large hailstones. Too late ­ storm was headed for the ocean.
Weak anvils began to hover over the Sydney basin about 2pm . After the next observation, I was astonished to find a powerful side anvil!Wow!! No hesitation ­ I grabbed the gear and was off. All the gear except my wallet and I was low on fuel ­ turned back grabbed the wallet. The intercept was not difficult and I targeted the region near Penrith. A rainfree base indicated a possible wall cloud region ­ bolts pulsing from this region.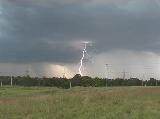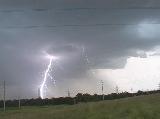 By the time I headed out to Plumpton, it was evident the storm was on the move meaning that an escape route and positioning was not too far way. I chose a quiet road in the back of Mt Druitt. With so much adrenalin, I was out in a flash and shooting video. What I did not realise was that the storm was about to go ballistic! Besides those erratic bolts shooting out of the anvil above me within a kilometre or so, the main core began sending powerful bolts at a frequency one rarely observes.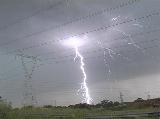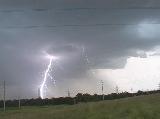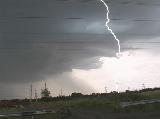 Multiple bolts 2 and 3 at a time ­ in some case 4 bolts. And some of these bolts were pulsing indicating a relative high energy environment ­ well that was obvious from the storms large structure. This display lasted about 15 ­ 20 minutes. Light rain spoiled the rest of the show so meant repositioning. The repositioning idea turned into an investigation of the core. At Erskine Park , strong winds bowed trees and made driving conditions hazardous. So finally, a trip down the freeway to film more lightning seemed to be a better option.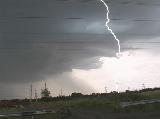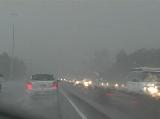 After some heavy rain and strong winds, the gust front reappeared. Lightning again pulsed to my left from an electrically active core of the storm though it seemed more infrequent. The storm was in a weakening phase. Meeting up with David Croan and Paul Graham we discussed how active this storm was ­ David and Paul capturing different perspectives of the event. After watching a couple of other events, and also giving some details to David Simpson about target regions for that evening around Mudgee and also the next day, I called it quits.
Click here for all stills listed online of this event.
If you (or someone you know) have any photographs or video of this event or any other type of severe storm such as damage, the storm structure itself or hail, please feel free to contact Jimmy Deguara. Your contributions are very welcome. Please any photographs or video footage are important so don't discount anything.
Phone: 0408 020468 (International 408 020468)
E-mail: jdeguara@australiasevereweather.com
---