---
January 25 2004
An active upper trough passed over the region during the morning with storms already active over the upper Hunter and Northern Tablelands during the morning and just after midday . Wind shear was ideal with a jet maxima expected to pass over the Hunter region. However, it seemed the action came too quickly and maximised early. We were in a warming trend during the afternoon
Basically a bust chase. We chased the western Hunter with Brett Vilnis and Mick Pollard. We met up with David Simpson during the chase as we watched storms explode over the Wollemi but basically were not able to get across to the Hunter. Not surprising though based on the wind shear. Some close lightning bolts observed as embedded cells passed over the Singleton area.
January 27 2004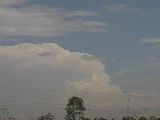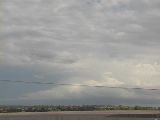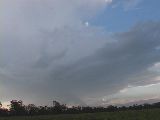 Dream chasing conditions for late January continued with the upper trough remaining stationary over eastern NSW. Reasonably high CAPE persisted particularly along eastern and northeastern NSW. Wind shear was also ideal with the strongest windshear around the region further south of Sydney. Supercells and severe storms were possible.
After work, I targeted the region further south of Sydney where a storm had exploded. David Croan in the meanswhile targeted another storm active region just north of Sydney in higher CAPE.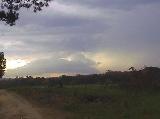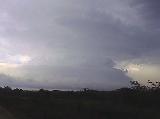 Despite this early phase and a slight weakening, it strengthened once again as it tapped the sea-breeze or weak southeast change progressing up the coast. Once at Campbelltown, the storm was in a rapid decline. Giving up that chase, I headed inland to other storms developing along the ranges. One active storm developed near Oakdale though trees ruined any ideal views. This storm gradually weakened as it drifted across the Sydney Metropolitan area.
Click here for all stills listed online of these events. January 28 2004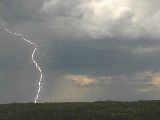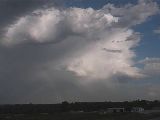 Another day where I decided not to venture too distant from Sydney due to lack of time. I could have ventured into the Hunter region but let that one go as well. David Croan was in a better position and was able to intercept a beautiful rotating LP supercell south of the Picton turn-off.
ome weak cells developed tapping the shallow moist layer. One increased in intensity over Schofields. I was able to capture lightning bolts and storm structure with sunset reflections.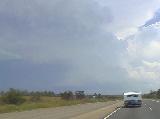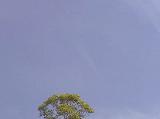 Click here for all stills listed online of these events.
If you (or someone you know) have any photographs or video of this event or any other type of severe storm such as damage, the storm structure itself or hail, please feel free to contact Jimmy Deguara. Your contributions are very welcome. Please any photographs or video footage are important so don't discount anything.
Phone: 0408 020468 (International 408 020468)

---