---
This day was a surprise for me as I hadn't seen any weather charts for three days, as I was on a Geography excursion to the Upper Hunter. From the old information I was expecting storms in NE NSW rather than central Eastern areas. So I was surprised to see some strong storms develop over the Barrington Tops mid-afternoon from some "popcorn-like" convection late morning.
The setup which I discovered later on was highlighted by an upper cold pool of -26 at 500 hPa over the Sydney/Hunter area, ESE to SE winds from the surface up to 800hPa bringing in a lot of moisture, combined with good surface heating for this time of year. Temperatures rose into the low-mid 20s in the Hunter, a few degrees higher than what the Williamtown sounding was plotted at) and a bit of a dry slot at 700. All of this screamed out hail in hindsight! As a result the LIs were a bit stronger than the -4.6 plotted on the Williamtown sounding. Winds from 800hPa were the typical westerlies, between 15-30 knots from 600 to 300hPa. This created slow moving storms which then were able to dump higher totals, with the risk of lots larger amounts of hail with the freezing level at 850hPa!!! (something that snow chasers would get excited about!)
I arrived back in Newcastle that evening after observing a particularly strong storm over the Gloucester area with a nice overshooting top, which was the right mover on radar mid-afternoon. There were also a group of anvils to my south over Sydney, which looked likely to move over the lower Hunter later that evening.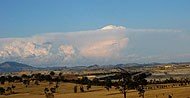 Taken by Dann Weatherhead looking north from Warrimoo, an example of the strong updrafts on the ranges that afternoon: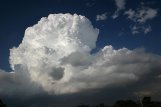 Photo by Phil Basil-Jones: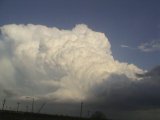 This is actually the main updraft on the same storm that hit Newcastle later on that evening! Phil and I discussed afterwards with the radar as a guide, and realised this storm formed over central Sydney, moved East just off the coast near Manly, then moved up the coast and crossed again on the Central Coast! Looking at the radar loops this storm would've continued for 5 hours!
You can see some the rotation in the updraft in this timelapse clip
After dinner I was surprised to see a group of strong storms on the radar, making their way up the central coast north of Gosford, which I later learnt were dumping large amounts of hail as attested by another Newcastle Uni student in Warnervale, with knee deep hail drifts! Going by radar, the main updraft of that storm dissipated as a new major updraft developed on its western flank, which soon moved over the suburbs of Newcastle.
On the storm's approach, regular flashes of lightning warned of its arrival, though there was little structure to be seen or clear CGs, mainly as there was some light rain in front of it. All of a sudden the wind picked up and the hail began, at an initial size of 1cm. Soon everyone in my residential college (I live on-campus at Newcastle Uni) was out of their rooms at the sound of the hail pelting down on the metal roof! What became intriguing to everyone was how long this lasted, after ten minutes it was still hailing, and hail drifts were beginning to form! After 20 minutes it finally stopped, and I went outside to look for any damage as an incredible amount of rain had fallen with the huge amount of hail. Our college office had 3cm of water flowing though it and a large hail drift that was about 20cm deep at its front door! Water was dripping through the seams in walls and ceilings - this was a common occurrence during and after the event in many buildings at the campus. On a quick walk around the area, I discovered a couple of 2-3cm hailstones, but over 90% of them were 1cm.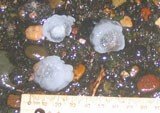 Being the local "weatherman" that everyone knows at college, I was soon flooded with news from a variety of areas around, and also people wanting to know what on earth was going on! I soon received a number of reports of a huge hail drift a few hundred metres away from my college. A friend and I went to investigate, and were gob smacked at a 50cm deep hail drift on one of the main roads into Uni!
Uni Security was at the scene, closing the road to all traffic - but left after a few minutes as it was 10pm on a Sunday evening and there was little in the way of traffic. However we were entertained by a young lady who managed to get her car bogged in the hail, and it required six people to push her out!
Much larger hail (5.5cm) was reported in Raymond Terrace, 10km north of Uni, and by looking at the radar, the storm intensified soon after passing over the northern suburbs of Newcastle. It was very lucky that Newcastle didn't experience 20 minutes of 4-5cm hail battering down than the mainly 1cm stones that it did receive!
The next morning I woke up to reports of the Uni being closed due to the hail/water damage. What had occurred to many buildings was their rooves were collapsing from the sheer weight of hail above them! As Newcastle Uni was built mainly around 1970, the flat roof style of that time is evident in most buildings, which are much better collectors of hail than your typical angled rooves! Also any leaks in buildings were open to the elements of the storm, and many buildings had extensive water damage.
At 9am the next morning, 123mm had fallen at the Bureau's gauge at the University, and 63mm had fallen at Williamtown, of which most would have fallen during the twenty minutes of the storm.
Three days later there were significant amounts of hail still piled up from roof drainage, a couple of which were approximately 1m across and 0.5m high!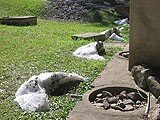 An amazing and different storm event from the usual, something that I will probably never experience again!
---
Radar
Newcastle local scale loop 0300z to 1230z 19/09/2004 (1pm to 10.30pm local)
---
Satellite Images
From Bureau of Meteorology 5pm to 8pm local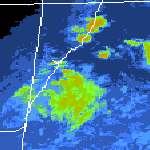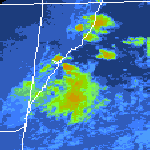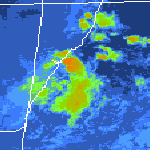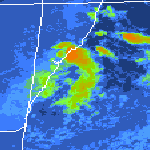 ---
Analysis Charts
From Bureau of Meteorology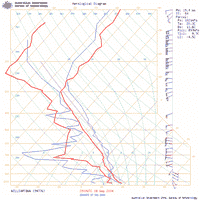 Newcastle sounding at 9am local ---