---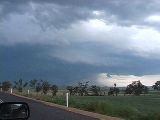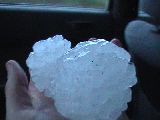 It was almost a year to the day of this event that another supercell with very large hail created havoc along the Pacific Highway at Tyndale, near Grafton. Muswellbrook and surrounds was the target of this supercell. This event developed along a shortwave that destablised the atmosphere and for once had at least some inflow from the east. Directional and speed shear was more than ideal for supercell development. With model calculated surface lifted index values of -4 and dry air intrusion, the environment once again favoured very large hail. The size though was astounding! Having formed near Wellington about 200 kilometres to the southwest.
Storm chasers David Croan, Geoff Thurtell and myself converged on Jeff Brislane and Matthew Piper near Gulgong. Same targets! The storm neared Gulgong as a dclassic supercell. The wall cloud and scupltured structure was simply awesome. This storm had access to easterly inflow winds and moisture.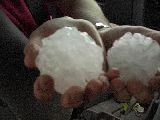 This is the largest storm of the season thus far. It was an incredible event though my vehicle has sustained more dents. I was very much concerned about the windshield - some were shattered in the event. The hailsize in the picture were not the larger hailstone diameters observed - just whatever we could pick up when David Croan dared lean out of the car:) 10 - 12cm hail were mentioned in this storm backed up by David's estimates. In hindsight, we should have turned back and surveyed the hail size and damage.

Here is a preview of some of the images:
Jeff Brislane has kindly submitted photographs from his perspective of the same supercell.
See also the hail report from ABC Mid North Coast
Please contact Jimmy Deguara if you have more information on the event including photographs and video or if you know somebody with such footage.
Phone: 0408 020468 (International 408 020468)
Click here for all stills listed online of this event.
---
Radar
From Bureau of Meteorology.
Newcastle local scale loop 0320z to 1030z 24/10/2004 (1.20pm to 8.30pm local)
Newcastle medium scale loop 0350z to 1050z 24/10/2004 (1.50pm to 8.50pm local)
---
Satellite Images
From Weatherzone at 2pm to 4pm local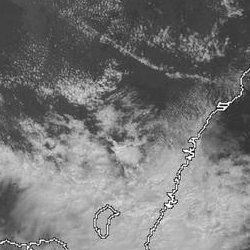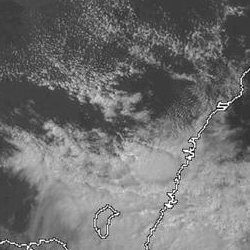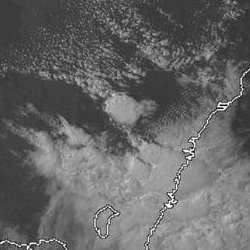 ---
Analysis Chart
From Bureau of Meteorology. ---