---
Part 1 by Dave Ellem
Well it was the first day of my uni holidays, and other than having a few errands to do in the morning, I thought the rest of my day would comprise of sitting around not doing much. The forecast had mentioned the chance of thunderstorms, however the forecast models didn't show much chance of anything spectacular happening. Part of the reason for this was that the models hadn't picked up an upper low that had developed in S QLD the night before, and by the next day, the cold pool and associated surface low began to move into NE NSW, with cloud circulation around the low quite evident on both satellite and radar. This was bringing some nice instability, and with plenty of moisture from the onshore winds, storms were certainly a chance. Around 7.45pm Michael Bath sent me a message on ICQ that he could see storms to the NW. Although they looked quite weak, it sure was a surprise to see them so early in the morning. Evidence of the cold air aloft.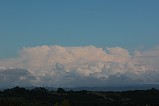 The cells were in S QLD and were slowly tracking SE, showing some areas of pink and red on radar. Slack wind shear meant these cells were rather slow moving, and I wasn't overly confident they'd affect our immediate area. I headed out for the morning and arrived back home at around 11.10am, observing a very dark but featureless sky to the NW. A check of radar when I got home revealed a cell heading SE between Lismore and Casino, showing a decent pink core and soon after a red core. Normally I would have headed out on chase, however it looked very ordinary with no lightning observed, so I decided to stay put. By 11.45am however, the cell really looked to be organising itself on radar, and visually it looked to have grown in height and had a very dark base, so I decided to head for Evans Head to try and intercept it. Just near Alstonville I observed some impressive pileus covered updrafts rising up the back of the storm, and the anvil now looked somewhat solid. By the time I got to Meerschaum Vale, some base features were coming into view, however trees, powerlines etc mostly obscured the view. At this point I heard a report of hail on the radio, so I figured I may be in for some hail drifts! I soon got onto the Pacific Highway and headed south. I stopped in a few locations to get some pics of quite an intense looking lowering ahead of the precipitation curtain. I imagine that had I been looking at the storm head on, it would have been quite a nice gustfront.
I stopped a number of times along the road to Evans Head to get some pics of the nice and dark looking sky ahead of me. It was looking very threatening, and thunder was almost constant, however I didn't observe any CG lightning. I pressed on towards Evans Head and encountered very heavy rain just as I entered the town.
No hail! I was kind of surprised, but it did seem as though I'd only just caught the edge of the storm. I came to a dead end at the southern end of town, so decided to head back to the Pacific Highway at Woodburn in the hope of finding some hail drifts. I took a quick photo of the rain now to the SE of Evans Head. It looked quite heavy.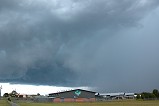 Sure enough as I headed towards Woodburn, small patches of "snow" were lying along the side of the road. I get quite excited when I see hail drifts (which isn't often!) so I quickly applied the brakes and got out for some photos and a bit of a play! It was a shame no one else was chasing with me, as a hail fight would have been quite fun! Maybe next time. The biggest stones would have been around 2cm, but most of the hail was under 1cm.
There was evidence of strong winds, possibly severe, in Woodburn, with some large trees blown over and heaps of smaller debris, though that is likely due to the large quantities of hail which fell. The SES was busy clearing one fallen tree off the Pacific Highway when I drove past, but I saw no other damage after this. I pressed on towards home, driving through a few weaker storms with very heavy rain and the occasional CG near Broadwater and again near Alstonville. I learnt later that the storm I had chased turned the ground white like snow at McKees Hill and Bentley between Lismore and Casino. Check out the report by the Northern Star below.
The following video stills are by Graeme of McKees Hill:
Part 2 by Michael Bath
It was a bit annoying that the storms in the Northern Rivers developed so early as I was unable to finish work until about 1pm so missed the first chase.
The surface low pressure system that developed along the border with Queensland moved slowly southeast and I expected it to cross the coast between Yamba and Coffs Harbour later. Radar showed that storms continued to form right around the entire circulation, though the best were in the northern and eastern quadrants. Most were fairly weak but some persisted and exhibited nice features and lightning. From about 1pm large cells formed in a line from my north over the Nightcap Range to the east towards Ballina and appeared to punch much higher than earlier cells. These were near the coast and not really chaseable but great to watch. Heavy areas of precipitation soon formed and some close CGs hit nearby.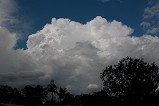 Meanwhile to the west and northwest another thunderstorm gathered. Soon after 3pm Dave and I decided to try and intercept a stronger looking storm as it was initially being steered SSE by the low. We headed out and observed some interesting base features from about 3.20pm as the storm passed close to Casino. It looked very strong at this stage with the base quite organised. We had hoped the cell would persist and head towards Evans Head but more W-NW winds wrapping around the low seemed to kill it off soon after 4pm.
We thought all activity was over during the drive between Woodburn and Alstonville - some light rain was falling and the sky was cluttered with what appeared to be decaying cells. A few phone messages soon alerted us to something interesting occurring near Lismore. We couldn't wait to see what it was ! It seemed like a crawl driving through Alstonville and wondering what we were missing. Then it came into view - a very large shelf cloud structure extending across the western horizon, probably just over the eastern parts of Lismore and beyond, and rapidly heading eastwards. We had to wait a couple more minutes to get into a good position for photos. Certainly one of the better gust front features seen in a while, but we only had minutes before it was going to hit. We decided to drive back east and stay ahead of the guster to hopefully get more photos and footage near Ballina. We just managed to do this and stopped on the outskirts before the storm moved over us. There were a few very powerful bolts of lightning and an interesting lowering on the shelf cloud's southern end before it was all over. Quite a nice finish to the day though !
Storms headed in various directions today as the wind circulation around the low pressure system forced cells within its flow. The webcam time-lapse sequence, and the radar loops nicely illustrate this. There was about 12 hours of storm activity and although none were extremely severe or highly organised, several were well structured and photogenic.
Additional photos
These photos by Alison Bath at McLeans Ridges:
---
Media Reports
---
Video Clips
McLeans Ridges Weather Webcam Timelapse Sequence 21/10/2004 10:48 to 16:54 (992kb in MPG format)
---
Radar