---
The pictures I have from the most recent chase in late December (23rd to 27th inclusive) are now ready and online:
Some favourites and the individual chases are as follows:
23rd December 2004 lightning show and an extremely active MCS at that. Some very close cg's observed and captured on video. Some good timelapse showing overall rotation in the storm.
This lightning was one of a few that were quite close.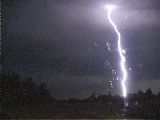 All stills of this chase are on this page


24th December 2004
Lightning at sunset - this also became an MCS flickering into the night.

All stills from the 24th are on this page

25th December 2004 Storm near Gunnedah was chased from intitiation - developed some very nice structure as it suddenly began to organise. Put out some great lightning as well. I very much doubt I have ever seen as many anvil to clear air lightning as this storm - quite dangerous to be out of the vehicle in this type of situation.
Some pretty anvil crawlers kept me entertained. The retreating storms as observed from Moree were the least active part of the complex.
All stills here
27th December 2004
Met up and then chased with Michael and Bath Dave Ellem - too many storms on this day - I liked the earlier one better - not bad for 8:30am to 9:30am. Obviously very low bases and time-lapse seems to indicate rotation.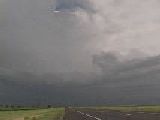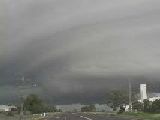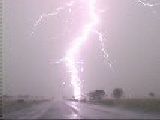 This lightning bolt occurred from the squall line that was chased later north of Moree. We were retreating back south letting the squall line go. Storms to the south were definitely not as strong producing heavy rain and basically weakened dramtically after that.

All stills here:


---