---
GFS instability charts had picked this day as a possible storm day in the Northern Rivers from early in the week. Though what was really interesting was the forecast of awesome shear as a low spun up into an East Coast Low. GFS runs closer to the event reduced the instability and had it favouring SE QLD but it was still a good chance. The NSW Bureau of Meteorology, however, had no mention of storms at all during the week, and only upgraded the afternoon forecasts AFTER storms formed during the late afternoon.
The problem with an ECL forming along the North Coast is that it is associated with a lot of cloud, and sure enough, Friday was very cloudy for nearly the entire day. Not very encouraging for storms, though it still managed to get quite warm and humid for this time of year.
There wasn't much point chasing today. The setup was most likely to have storms forming in the Darling Downs and Granite Belt district of Queensland and strong sheer would steer those storms E or SE into Northeast NSW at a rapid rate !
Some cumulus developed on the ranges under the thick mid and upper level cloud during the afternoon, but nothing got going locally - as expected. Radar revealed lightning inactive cells were forming on the Northern Tablelands and Granite Belt by 5pm. A large NW-SE line soon formed and advanced into coastal districts.
It wasn't until 7.30pm that some lightning was observed to the west. Radar revealed a cell had intensified near Kyogle and was tracking slightly south of east within the NE moving line. The lightning became constant but no bolts were visible.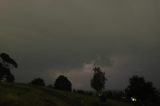 The storm was racing towards my home at McLeans Ridges but was refusing to put out any CGs ! A shelf cloud had formed and was occasionally visible from the lightning.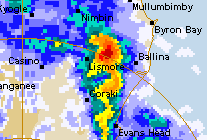 Just before 8pm some gusty winds hit with a little rain forcing a relocation of the camera which was facing NW, to inside the lounge room (with sliding doors open) and now facing north. What a lucky outcome this proved to be ! Within a minute an awesome CG hit right in frame in the valley just south of Eltham (about 3km away from me). I couldn't believe the luck. This was quickly surpassed by a second, then a third even better fully branching CG right in frame !!! And they were showing the point of impact with the ground. Amazing ! Three more CGs hit within the next minute, the first 2 of which were at the edge of camera frame.
It was all over for the main lightning show. Extremely heavy rain with hail to about 1.5cm diameter hit with strong winds. Peak rain rate was 320mm/hr with 15mm falling in a short time.
There was damage from stronger winds and hail within 1km of my place. Branches were torn off trees and leaves stripped. Larger hail has been reported but unconfirmed as the storm passed over Lennox Head and East Ballina.
More storms were visible to the N and NE into the evening.
---
The red dots mark the points where the lightning hit. Click image for larger view.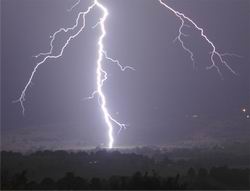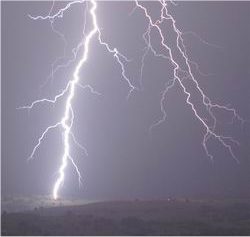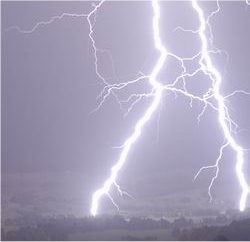 Other Photos
This photo taken by Rodney Wallbridge at McLeans Ridges: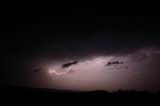 These photos taken by Dave Ellem from Wollongbar - the third photo by Dave shows more of the same lightning bolt captured in photos #06 above - and reveals it actually had a 3rd branch hitting the ground:
---
Radar