Storm News
and Chasing
[Index][Archives]


Northern Rivers Storm Chase with Incredible Lightning Show: Tuesday 3rd January 2006
Report compiled by Michael Bath, Dave Ellem and Rodney Wallbridge
---
If you have any photos or video of this event, please email.

Chase account by Michael Bath

Thunderstorm updrafts were visible to the west through the haze. The tops of the cells looked quite nice but given the setup I was expecting rather high bases. The structures were good enough to entice me out on chase just before 4pm.

It was over 40 degrees and humid, so not very pleasant ! The sun was intense so I moved to the Parrots Nest spot where there is a little shade. Very weak congestus with thunderstorm type upper halves were to the S and SW. A cluster of weak nondescript thunderstorms were off to the NW.

This was the area that seemed like it would continue but given it was near Kyogle and heading NE would become unchaseable. I provided an update to Dave not to bother coming out at this stage, though during the call I spotted the first CG of the day.

Nothing got going locally so I decided to move closer to the cells over Kyogle. I watched near Tuncester west of Lismore in a spot now under anvil shadow. The storms looked very weak but were producing some heavy showers and the lightning was quite active at times.

Rodney met up with me after his work about 5.30pm. We eventually moved further along the Lismore Kyogle Road to the Casino turnoff. Storms were developing to the SW and S while the original cell slowly propagated towards the Queensland border. A bushfire in the Ewingar State Forest provided some interesting colours.

We moved back into Lismore by 7.30pm and initially watched the storms from near the airport. Dave phoned and said the storms to the south were very active on lightning tracker and he was heading out towards Broadwater. I could now see intense CG lightning occurring in that direction.

Rodney and I moved to near Wyrallah south of Lismore. The lightning went ballistic, CG after branching CG ! It was hard to know where to point the cameras.

A small cell just to our west become a worry, especially when intense lightning starting spitting out right next to us. We unfortunately had to move when light rain commenced. After a wait near Lismore Airport, we were able to move back to Parrots Nest at 9pm as more storms arced up. Of course another hassle had to introduce itself: gale force southerly outflow winds ! The Lismore Airport AWS measured gusts over 80km/h.

Rain held off, so we persevered taking lightning shots towards the SE and then south. Some rain hit so the decision was made to head home and hopefully watch the show out the front (north) of my place.

It was now 10pm and CG active cells seemed to be everywhere! There was no severe thunderstorm advice out, it was just one of those rare days of very hot weather, followed by smallish evening high based, and extremely lightning active storms, like 8th January 2003 and 10th November 2002.

Lightning continued over the next 3 hours! Just when we thought it was over, other cells kept forming, a couple of which were right over head ! Rodney and I both captured one of the very close staccato CGs that hit about 300 metres away.

Chase account by Dave Ellem

I had been watching the activity from home during the afternoon. At times the updrafts looked quite strong, but they would soon reduce to orphan anvils. All the convection provided some nice colours and crepuscular rays towards sunset.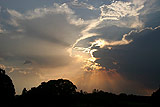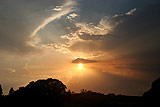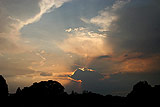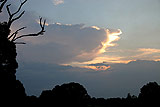 With lightning tracker indicating highly lightning active storms moving up from the Grafton area, I headed down to Broadwater. The lightning on the drive was amazing. Huge branching CGs, and quite frequent too. I stopped in Broadwater to photograph the lightning, but managed to miss actually getting any lightning in frame. In fact I was too close to the storm, so I headed back up the Pacific Highway to Wardell, and watched some amazing lightning from there.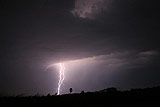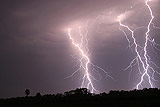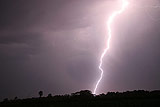 Eventually rain and strong southerly winds enticed me back home. Lightning was still occurring to the W on the drive back home which was encouraging. By the time I got home CGs were becoming quite frequent to the W. I setup the camera from the upstairs window and grabbed a few shots.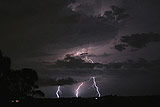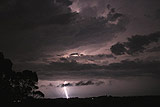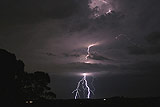 The best lightning was of course occurring behind the trees, so I ducked down the road to get a better view, photographing the lightning from inside the car for safety reasons, which became clear as CGs later started hitting the road no more than around 200m away.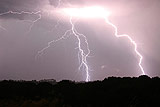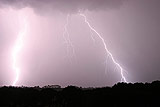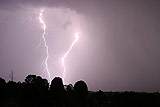 Eventually torrential rain hit, so it was back to home to watch the show from there. I setup the camera upstairs once again and watched as CGs rained down in front of me.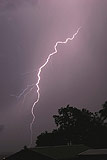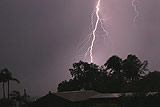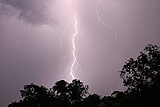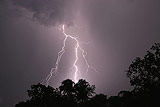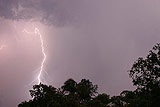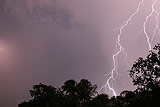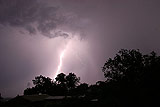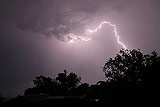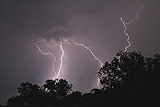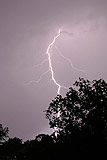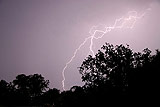 I called it quits sometime after 11pm, going to bed difficult with CGs still cracking away around me.

---
Radar