---
Warm to very warm. Scattered cumulus developed from the north and persisted until early afternoon.
Chased and encountered a slow moving severe storm south, and then east-northeast of Casino. This storm lasted for about 8 hours after forming on the Dorrigo Plateau about 10am and heading mostly NNE. It did have supercell characteristics near Grafton then struggled in lower moisture for a while before picking up about 4pm south of Casino. It again became highly organised.
Enjoyed about 1.5 hours of the storm's approach and recorded some great timelapse sequences. Dave Ellem and Beck Armytage joined me at McKees Hill just after 4pm.
I decided to head into the precipitation core once the storm got close. The cell crossed the Bruxner Highway east of Casino and there were reports of hail on the UHF radio.
From the NW side of the side, violent outflow winds hit. Driving into the storm was at first moderate rain, then intense rain with small hail, following by a barrage of 2-3cm stones and also some hitting were 4cm.
Showers and weak thunderstorms persisted until early evening near Casino. Some nice lightning observed but it was infrequent.
This storm was a supercell that may have evolved through all three types: classic near Grafton, LP north of Maclean then finally HP east of Casino.
Discussion about this event can be found in the Australian Severe Weather Forum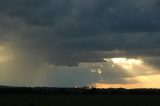 More weather photos for this event can be found in the Photo Catalog
---