---
Warm and humid with altocumulus castellanus during the morning. N-NE winds. Some early small thunderstorms to the NW-N ahead of strong thunderstorm development from about midday.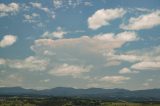 Supercell formed near Drake and tracked northeast to Gold Coast via Wiangaree. Storm chase with Rodney Wallbridge and Beck Armytage where the HP supercell was intercepted north of Kyogle. Breathtaking structures.
Shot northwest of Wiangaree as the cell passed through. Violent winds and torrents of rain with hail to 2cm encountered.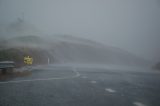 The region became overcast with S-SE winds. Chase continued west of Tenterfield with weaker cell continuing until evening.
Discussion about this event can be found in the Australian Severe Weather Forum
More weather photos for this event can be found in the Photo Catalog
---